Down to Saturday night's final, frantic seconds, USF quarterback Matt Grothe was still slinging. Still leading. Still making something out of nothing.
On the opposite sideline, Kansas senior quarterback Adam Barmann was helplessly watching.
And sometimes, he was cringing.
"I think it's safe to say that guy (Grothe) got our attention," Barmann said. "I think it's safe to say that guy has our respect. I can't believe he's a freshman."
Grothe fell one connection short of a truly unbelievable ending.
Rock, Chalk, Aftershock.
It was there. Then it wasn't. Grothe deserved a better fate in USF's 13-7 loss to the Jayhawks. He accounted for 262 yards of offense - indeed, he's responsible for 73.3 percent of the Bulls' yardage total through four games - but you didn't sense that he was satisfied.
Not after USF's final drive died on the Kansas 27-yard line.
Photo Gallery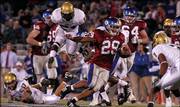 KU vs South Florida football
Not after his desperation third-down pass to the end zone, on the game's last play, was intercepted by Jayhawks free safety Justin Thornton.
"We moved the ball, but we couldn't capitalize," said a glum-faced Grothe, who completed 17 of 32 passes for 196 yards, while also finishing as USF's leading rusher (18 caries for 66 yards). "There's not much more you can say."
Let others say it for him.
Here's Kansas freshman cornerback Anthony Webb.
"He didn't play like a freshman tonight," Webb said. "He's got some wheels. You've got to be aware of how that guy runs. He can kill you. Tonight, he almost gave us a heart attack. I'm just happy to get out of here with a win."
Also checking in is USF sophomore free safety Carlton Williams.
"I love Matt Grothe back there," Williams said. "Not only because of what he has done, but how passionate he has been in doing it."
Words of praise flowed from nearly everyone - and it was a loss, a maddening tease, a clinic of what-might-have-been opportunities.
The Bulls still don't have a running game. Little confidence was displayed in the kickers, even deep in scoring territory. They killed themselves with penalties. The USF defense continually made huge plays (linebacker Stephen Nicholas had a career-high 15 tackles), but not when it really mattered, when the game needed to be grabbed by the throat.
So what kind of hope do the Bulls hang on their horns?
Audio Clips
2006 Football Univ. South Florida postgame comments
They have Grothe. They have a leader, a guy who stands bravely in the pocket and delivers, a guy who recognizes defenses and gets his team in the correct play, a guy who's slippery and tough. He's a real weapon.
But he's not enough.
USF's quarterback quandary is ancient history. If his progress continues, Grothe is a legitimate contender to be recognized as the nation's best freshman quarterback.
The Bulls missed their shot to go 4-0 - and what a difference that would've made heading into Friday night's Big East Conference opener against unbeaten Rutgers. Now they must address other concerns if they hope to compete in the Big East.
It's pretty clear that Grothe is USF's show now. And he did a magnificent job to engineer three come-from-behind victories, then to hang tough with Kansas.
Mark Mangino talks about the Jayhawks' 13-7 win over South Florida
He's the team's best runner. Heck, he might be the team's best punter.
"Matt is doing everything he can," USF tight end Devin Gordon said.
But he can't do it alone. Through four games, that has become clear. The Bulls have a quarterback. The comeback doesn't always come in. Now Grothe needs some support. That's the lesson Saturday when USF's freshman quarterback nearly pulled it out - again
Copyright 2018 The Lawrence Journal-World. All rights reserved. This material may not be published, broadcast, rewritten or redistributed. We strive to uphold our values for every story published.