Students don't have a lot of sweet things to say about it. And some of the comments teachers make are a bit tart.
But just wait.
A new policy adopted last year for Lawrence public schools that includes cutting out junk food and sugary drinks is only getting started.
"I'm on a mission," Deputy Supt. Bruce Passman said Friday, outlining his three-year battle plan.
"Eventually it will pertain to everything that's brought into the school," Passman said.
But so far, the campaign to improve school food offerings is going slowly, he said.
The idea this year is to cut back on most of the fatty and sugary offerings sold as a la carte items at lunch and in vending machines and school stores. But students won't have to go cold turkey on all sweets.
For example, he's not going to lay siege to birthday party treats brought to school - at least not until the second year of the plan.
"When parents call and say 'Can we bring the Little Debbies we've always given?' the answer still is 'Yes,'" Passman said.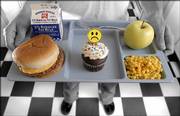 But parents will be asked if they'll consider a healthier choice.
Here's a basic rundown of the nutrition plan.
¢ In year one, they're cutting back on most of the fatty and sugary items sold as a la carte items in elementary schools and in the vending machines and school stores at the junior highs and high schools. The high schools now sell only diet sodas, water, fruit juices and Gatorade in vending machines. Also gone are most treats like sugary cookies and candy.
¢ In year two, food for classroom rewards, parties, snacks and celebrations will have to meet the same guidelines this year for a la carte and vending machines.
¢ And in year three, school employees will adhere to the vending machine guidelines adopted for students.
Passman plans to give the details of his plan Monday night to the school board, which approved a wellness policy last April aiming to bring healthier food offerings to students in schools and improve the youngsters' physical fitness.
'Tastes horrible'
Opinions about the policy were mixed Friday afternoon in the Lawrence High School parking lot, where some students were snacking on what may come to be forbidden foods.
Lydia Shontz, a senior, was eating a candy Bubble-Pop sucker as she talked about the policy.
"Overall, I think it's a good idea," Shontz said. "But I think they're expecting too much to come from it. Even if they get rid of stuff at school, it's not going to regulate how they eat at home."
Jessie Long, another LHS senior, was holding a diet Pepsi.
"I think it's pretty good," Long said. "They're trying hard. There's still food being brought in that people are getting at home. Most parents don't really care."
Kaylie Price, another senior, called the policy to eliminate sugary soda drinks "really stupid."
"Studies have shown that the artificial sweeteners in diet sodas are so much worse than actually having the sugar. And it tastes horrible, in my opinion, compared to regular soda," Price said. "I think they should put regular soda back in the vending machines. Obviously, if we want to drink regular soda, it should be our choice."
And if students want it that bad, they can go off campus for lunch to get something else to eat and drink, she said.
Amanda Gage, a junior, said students have been complaining about not getting cookies and the sugar they want in the a la carte menu items offered at lunch.
Starting this year, the lunch a la carte food offerings do not include soda, water ices, hard candy, jellies and gums, marshmallow candies, fondant, licorice, spun candy or candy-coated popcorn.
Vending machines and school stores also have restrictions on snack foods except those that are 200 calories or less per unit.
"They can eat them at home, so why not just serve them here, too?" Gage said.
Choice important
Susan Myers, who has two children at LHS and one at South Junior High, said choice is important for students.
"I think if they gave them enough choices, they would kind of sway toward that way (healthier snacks), maybe," Myers said. "They still need to be able to have a choice. You can't protect them from everything all their life. They know what's healthy and not healthy."
Kent McDonald, an LHS science teacher and cross country coach, was a little skeptical about the policy.
"I like the idea of what they're trying to do. But first off, I'm not sure it's workable and I'm not really sure who will make the decisions on what's nutritious and what's not."
Adele Solis, president of the Lawrence Education Assn., said a bigger concern for teachers than the food restrictions is finding time to implement any new physical fitness or health lessons into their daily lesson plans.
"We already have a lot to teach," Solis said.
Three-tiered plan
Passman said the wellness policy will cover three areas: Nutrition, nutrition education and physical activity.
"Probably the bulk of the changes this year are in the nutrition area," he said.
Here is a sampling of this year's nutrition changes in more detail:
l Half of the food items sold in vending machines or school stores must have 200 calories or less, have 35 percent or less of their total calories from fat and have 35 percent or less of their total weight from sugar. Some exceptions are made, such as nuts, seeds and fruits.
l Foods and beverages for classroom rewards, parties, snacks and celebrations will not be provided until at least one hour after the end of the last lunch period.
l Fundraising activities involving the sale of food or beverages will not take place until after the end of the last lunch period.
l Foods containing whole grains are offered daily. Fresh, canned, dried or frozen fruits or vegetables are offered daily on the school lunch menu.
"We tried to approach this whole thing from a perspective of trying to be reasonably aggressive," Passman said.
"We want to adopt goals that stretch us a little bit, but we want to be reasonable, so we try to put these in a two- to three-year sequence."
Passman said the food-service staff has been told to encourage students to make healthier choices.
"The lunch ladies have become very aggressive about our wellness policies, as we'd like them to do," Passman said "They're trying to catch kids when they're buying too much stuff that's not nutritious. ... They're taking some heat for it."
Copyright 2018 The Lawrence Journal-World. All rights reserved. This material may not be published, broadcast, rewritten or redistributed. We strive to uphold our values for every story published.