Houston — An astronaut collapsed twice Friday, a day after she returned to Earth in the shuttle Atlantis, and officials attributed her wobbles to the adjustment from 12 days at zero gravity.
Heidemarie Stefanyshyn-Piper left the welcome-home ceremony at the hangar at Ellington Field but was not taken to a hospital. Officials said she was doing fine.
Piper, the fifth of the six astronauts to speak, appeared to be confused before her legs buckled during her address. NASA officials and crew members braced her and lowered her to the ground. She stood up again, and the crowd applauded.
"Boy, if that's not a little embarrassing," she said.
After speaking for another half-minute or so, she again appeared confused and gripped the podium. Crew members stepped to her side and lowered her to the floor.
Two NASA officials then helped her leave through a side door, and she was allowed to return home by early afternoon, said Smith Johnston, the crew's flight surgeon, who was at Piper's side when she fell.
Astronauts typically lose 10 percent to 14 percent of their blood volume while in space, usually regaining it in a day or two, Johnston said.
"It's like they just went to the blood bank," he said.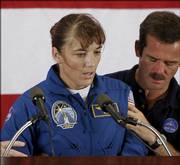 Glenn Piper, who was at the ceremony, blamed his wife's fall on the combination of effects from her recent return, a relatively warm hangar and the excitement of the ceremony.
"She's doing 100 percent well," he said by phone from home later in the day. "Basically, she's embarrassed."
The Atlantis crew returned Thursday after performing the first construction work on the international space station since the Columbia disaster 3 1/2 years ago.
Piper, 43, of St. Paul, Minn., is a commander in the Navy and was a mission specialist and cosmic electrician aboard the shuttle.
Copyright 2018 The Associated Press. All rights reserved. This material may not be published, broadcast, rewritten or redistributed. We strive to uphold our values for every story published.