Beirut, Lebanon — Hezbollah leader Sheik Hassan Nasrallah defied the international community in his first major appearance since the war with Israel, telling hundreds of thousands of supporters at a "victory" rally Friday that no army could disarm his militia.
Nasrallah said his guerrillas have replenished their arsenal and have more than 20,000 rockets, which they will never give up unless a stronger Lebanese government takes over.
The Iranian-backed leader's tough stance was aimed at demonstrating that Hezbollah was not weakened by U.N. peacekeepers and Lebanese troops deploying across southern Lebanon with a mandate to rein in the Shiite guerrillas.
The gathering that sprawled over a swath of bombed-out south Beirut was a defiant show of Hezbollah strength and a challenge to the government of Prime Minister Fuad Saniora.
Police officials estimated 800,000 people - mostly Shiites but including some Christians - filled the 37-acre lot to hear Nasrallah, forming a sea of waving yellow Hezbollah banners, mixed with a smaller number of Lebanese flags.
In his first public appearance since Israel launched its offensive against Hezbollah on July 12, Nasrallah called for formation of a new government. He repeatedly attacked Saniora's administration, saying it was weak and unable to protect Lebanon from Israel.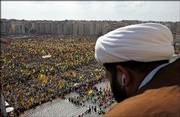 "Tears don't protect anyone," the black-turbaned cleric said in a jab at Saniora, who wept several times in speeches during the Israeli assault as he pleaded for international support.
Nasrallah said his group would keep its arms until Lebanon has a stronger government. Giving up weapons now "under this government ... means leaving Lebanon exposed before Israel to kill and detain and bomb whomever they want, and clearly we will not accept that," he said.
Hezbollah's push for a larger presence in government could deepen tensions in a country already sharply divided over the war that killed hundreds of Lebanese.
The guerrillas' tough fight with Israel sent their support soaring among Shiites. But a large sector - particularly among Christians and Sunni Muslims - opposes Hezbollah and resent it for starting the fight by capturing two Israeli soldiers.
A stronger Hezbollah political role would also snub efforts by the United States and Israel to weaken the group and decrease the influence of its ally Syria.
Despite his tough rhetoric, Nasrallah offered an olive branch, saying he did not want to bring down the government - only to hold discussions on including more factions.
Saniora has repeatedly rejected a new government. A terse statement from his office said Nasrallah's focus "on dialogue in his speech is a good and constructive thing and opens future horizons."
Copyright 2018 The Associated Press. All rights reserved. This material may not be published, broadcast, rewritten or redistributed. We strive to uphold our values for every story published.