Quick Stats
An improved defense, forcing its first turnovers since the season opener, a new, yet semi-experienced quarterback and impressive play from a true freshman helped KU rebound from last week's double overtime loss in a 13-7 decision over South Florida.
In his first game in almost a year, senior quarterback Adam Barmann stepped up, replacing the injured Kerry Meier, by completing 25-35 passes for 273 yards. Wide receiver Brian Murph benefited from Barmann's performance the most, catching six passes for 75 yards while Marcus Henry tallied five grabs for 66 yards.
Magino said Barmann won the starting spot on Thursday when the orginally projected starter Kerry Meier was not 100 percent healthy following a injury suffered against Toledo. Prior to Saturday's performance, Barmann had not played a game since Oct. 8 of last season - a 12-3 loss at K-State. Despite the lack of game experience this season, Barmann's performance was not a surprise to his teammates.
"Adam is a veteran, he's been here. He's been through it, he's probably seen all kinds of defenses so I expect nothing less of him," cornerback Talib said. "I expect him to come out and do what he did today because he's been here. He's a vet now that's what he does, that's his job. I don't expect nothing less of him."
Photo Gallery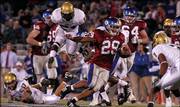 KU vs South Florida football
Turnover woes didn't faze the Jayhawks as much compared to past games. Barmann fumbled the ball twice - recovering the first, but was credited with the turnover on the second fumble after a 14-play, 48-yard drive that gave USF the ball on their 32 yard line. Including Barmann's fumble, KU gave up two turnovers, the other coming on KU's first serious scoring opportunity when Brian Murph fumbled the ball at the goal line on his way in for a touchdown fives minutes into the second quarter.
Running back Jon Cornish lead the team in rushing yards with 105 yards on 26 carries and scored the 'Hawks lone touchdown seconds into the fourth quarter.
Place kicker Scott Webb scored KU's six other points on fields of 37- and 42-yards midway through the third and fourth quarters. Webb's first kick gave the Jayhawks the initial 3-0 lead before USF quaterback Matt Grothe lead the Bull's on a 13-play, 58-yard drive, that ultimately ended with him running the football in for USF's only score of the game.
KU's defensive focus on forcing turnovers proved successful as the Jayhawks caught two interceptions, forced one turnover as well as several near interceptions and narrowly missing three sacks on Grothe. The Jayhawks also kept Grothe to 196 yards passing, going 17-32.
"In practice we're always yelling "turnovers, turnovers" and we just finally came out and did it tonight," Rivera said. "I think it's something the more you think about it then the more you have a chance for it to happen so we just thought about it a lot and tried to force as many turnovers as possible. I think we did a good job of it tonight."
Also helping the defensive unit for Kansas was true freshman Anthony Webb in the cornerback slot.
"Anthony came out and played a helluva game," Talib said. "He impressed me. He looked about as good as me out there. He wasn't nervous at all. He got all the calls made all the right checks. He ain't make many mistakes. He played a real good game."
As a team, KU finished the game with 391 yards of offense while holding USF to 309 yards total. Kansas had 23 first down compared to South Florida's 17. Both teams converted on nearly half of their third-down conversions as KU went 10-18 and USF going 8-15.
Now 3-1 on the season, the Jayhawks are finished with non-conference play and set to begin Big 12 Conference action Saturday against Nebraska. Kick-off is set for 6 p.m. in Lincoln and will be aired by FoxSports Net, Channel 36 on Sunflower Broadband cable
Final: KU 13, USF 7
KU holds on for the 13-7 win over South Florida with help from a strong defensive effort late in the fourth quarter.
Free Safety Justin Thorton intercepts Grothe's final attempt to find the endzone in the remaining seconds of the game. Set on KU's 27 yard line, Grothe failed to complete three pass attempts, including an over throw to a USF receiver.
Grothe completes a 20-yard pass to Ean Randolph for a first down, stopping the clock at 38 seconds.
Officials reviewed the possible interception and let the play stand as called on the field.
Failure to convert on a third-and-twelve brought Tucker on to the field to punt for KU. The Bulls will start on their own 39 yard line.
Linebacker Mike Rivera caught his first interception of the year, but the catch was called incomplete.
A strong Jayhawk defensive presence forced the second three-and-out of the game, including a sack by Como. The USF punt gives KU the ball on their 38 yard line with 2:37 left in the game. KU keeps the ball on the ground, giving it Cornish to run-down the clock.
USF is out of timeouts while KU has two remaining.
The ensuing drive resulted in a KU punt. Punter Kyle Tucker tried to pin the Bulls in the left corner, but kicked it too far, giving USF starting position on the 20 yard line.
KU's Como stopped USF's Walt Smith Sr., stripping the ball and recovering the fumble for the Jayhawks's second forced turnover of the night. The 'Hawks will take over on their own 45 yard line with 6:47 on the clock and a 13-7 lead.
With a fourth-down and six yards to go on the USF 24, KU opted to kick the 42-yard field goal. Webb hit his second field goal of the game helping KU extend its lead to 13-7 with 9:01 left in the fourth quarter.
Cornish followed his blockers breaking free for a 35-yard run before being brought down at the USF 28 yard line.
Offensive pass interference on the Bulls brought back a 46-yard gain to USF's 17 yard line. KU's defense held the Bulls forcing the first punt of the second half.
Jonathan Lamb let the punt roll to a stop at the KU 33 yard line with 11:22 left in the game.
Barmann capitalizes on field position, connecting with Murph on 29-yard pass before a USF pass interference penalty brings the ball to USF's three yard line. To start the fourth quarter, Barmann makes a shovel pass to Cornish for the easy touchdown run. Webb's hits the point after, giving the Jayhawks the 10-7 lead.
Barmann is now 24-33 with 268 yards.
A USF penalty on the kick off gave the 'Hawks their best starting field position of the night, moving the ball to KU's 36 yard line.
Grothe scores the first touchdown of the game on a quarterback keeper, rushing seven yards for the score. Grothe completed two key passes on third downs late in the third quarter to keep USF's drive alive. Mike Benzer's PAT attempt is good, giving the Bulls the 7-3 lead with 3:07 left in the third quarter.
KU's defensive end Paul Como sacks USF quartberback Grothe, forcing a third-and-six possession on KU's 43 yard line.
Taurus Johnson returns Webb's kick off 41 yards to their own 45 yard line, giving the Bulls good field position for USF's first possession of the second half.
Fine back into the Jayhawk line-up after leaving the field limping in the first half.
Halftime: KU 0, USF 0
KU continues to dominate the time of possesion with 20:12 compared to USF's 9:28, but can't manage to find the endzone.
USF has pinned KU deep in their own territory, as twice the 'Hawks have started on their own two yard line and once on their five.
Barmann completed 17-23 passes for 169 yards playing in place of the injured Kerry Meier. Four times Barmann has found the hands of Brian Murph and Jon Cornish while finding Marcus Henry and Derek Fine three times a piece.
USF's No. 1 freshman passing quarterback Matt Grothe picked up 108 yards going 8-13.
Both of KU's potential scoring opportunities failed to produce any points for the Jayhawks. The first being a fumble at the goal line by Henry and the second coming from Barmann. KU forced the Bulls' only turnover of the game on the insuing USF drive when Talib picked off Grothe's pass at the KU one yard line seconds before halftime.
Cornerback Aqib Talib intercepts Grothe's pass with eight seconds left before halftime, stopping USF's final attempt to score before intermission.
Barmann fumbles for the second time on the drive giving the Bulls the ball on their 32 yard line with 37 seconds left in the first half.
Tight end Derek Fine caught a Barman pass and is slow to get up near the KU sideline. Fine limped off the field.
Barmann continues to connect with his receivers. The first being an 11 yard-pass to Marcus Henry on a third-and-10 to keep KU's drive going. KU is now 6-8 on third down conversions
The Jayhawks drive downfield 95 yards, thanks in part to two USF penalties. On third and eight, Barmann connected with Brian Murph who turned right, making a run to the endzone but fumbled before breaking the plain. USF recovered the fumble in the endzone, giving them touchback position at the 20 yard line to start their next drive.
KU's defense force another USF punt. Murph gains five yards on the return giving KU starting position on their own 20 yard line.
Cornerback Anthony Webb knocks down a Grothe pass on third and two, forcing the Bulls to punt. USF's Delbert Alvarado's punt pins KU inside their own ten.
Entering the second quarter KU entires the Bulls territory for the first time of the game at the 46 yard line after starting on their own five. Running back Jon Cornish made a key catch from Barmann, turing opposite of the oncoming defender to pick up 16 yards and first down to keep the drive going.
After starting on their own 20 yard line, the Bulls move quickly down field but the Jayhawks defense hold the USF attack on the three yard line. USF quarterback Matt Grothe's rush attempt was stopped well short of the first down. KU gave up 77 yards, but keeps USF out of ht endzone.
The Jayhawks take over on their own three yard line wiht Barmann at quartback.
KU manages one first down in its first drive, bu ta penalty hurts the 'Hawks' first run and are forced to punt.
USF starts its second drive of the game on their 38 yard line with 6:26 left in the first quarter. KU forces the Bulls to punt, and will start its second drive on the KU five yard line.
Pre-game Warm-ups
As expected after the look of pre-game warm-ups, Mangino gives Adam Barmann the starting spot over usual quarterback Kerry Meier. The redshirt freshman's status as a starter went from likely to questionable after reports Meier suffered an injury to his throwing arm in last week's game. This is Barmann's first start since KU's 12-3 loss to K-State last season in Manhattan on Oct. 8.
Prior to the start of the game, second-string quarterback senior Adam Barmann warms up on the field. Meier, who played the later stages of last week's game with an injured arm is no where to be seen during warm-ups. It is expected that Barmann will start at QB.
Game Preview
Kansas University Jayhawks will host the University of South Florida Bulls in its last non-conference game tonight at 6 p.m at Memorial Stadium. The match-up, which is scheduled to air on Fox Sports Net (Sunflower Broadband channel 36), will be the first meeting between the two squads.
South Florida brings a perfect 3-0 record into the game, with the most recent victory being a 24-17 win over rival University of Central Florida last week. The Bulls were lead in the air and on the ground by freshman quarterback Matt Grothe who totaled 302 yards passing with three touchdowns and 73 yards rushing. For his efforts last week, Grothe was named the Big East Conference Offensive Player of the Week. Grothe currently ranks first in passing yards among freshmen quarterbacks in Division I-A.
Kansas (2-1) suffered its first set-back of the year in a disappointing 37-31 double overtime loss at Toledo last week. The Jayhawks were plagued by turnovers, including five coming from freshman quarterback Kerry Meier. Reports surfaced following the game that Meier sustained a bruise to his throwing arm during the loss, but is expected to be ready for tonight's 6 p.m. kickoff.
Earlier in the week, head coach Mark Mangino said second-string QB senior Adam Barmann had seen increased workouts and could possibly get the starting nod if Meier isn't ready.
Copyright 2018 The Lawrence Journal-World. All rights reserved. This material may not be published, broadcast, rewritten or redistributed. We strive to uphold our values for every story published.