Everything '80s is in vogue again. Skinny jeans. Oversized striped shirts. And Lionel Richie.
With his new album, "Coming Home," which debuted at No. 6 on the Billboard top albums chart, Richie is having his biggest success in years. The album's first single, "I Call it Love," is rising on the charts and Richie has linked with hitmakers like Jermaine Dupri, Dallas Austin and songwriter Sean Garrett to help make him musically relevant again - not only to his own fans, but to a new generation.
The Grammy-winning singer-songwriter, once a member of the R&B; band the Commodores, is among the biggest-selling artists of all time: He made us dance "All Night Long" and stirred hearts with songs like "Say You, Say Me" and "Endless Love." But, today, some know Richie best as the father of professional celebrity/fashionista Nicole Richie rather than for his own achievements.
That makes Richie chuckle. Probably the biggest Nicole Richie fan of all, he cast her as the lead in his new video.
Q: You worked with people like Dupri and Austin on this new record. What did you learn from them as far as music writing today?
A: I would go in and they would have me sing my line the way I would sing it. We had a little joke about it. They would say, "That was college. ... Now we're going to take it to the street, we're going to mess it up a little bit for you." (laughs) ... It's what relates to street now.
Q: Did you learn some new slang that is now part of your lexicon?
A: It hasn't changed, believe it or not, it's just now they write it down as a lyric. We just kind of said it. If you get down to the hard-core rappers, it's changed a lot. But we didn't go there. In other words, Lionel Richie is the Lionel Richie I know. It's still me. But more importantly, it's just believable. In other words, there's nothing on this album that I wouldn't do on an everyday basis 20 years from now. That's what I tried to actually tell them. I said "Guys, it's gotta pass the 20-year-test. ... it can't just be for today."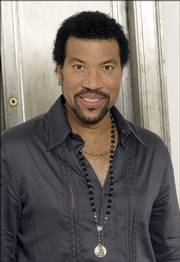 Q: Nicole is in your new video - what was it like working with her?
A: You mean me in my one trailer and Nicole in her four oversized trailers with her entourage and the photographers and the helicopter over her trailer? Hmmm. That's different. Yeah. Of course, when she got ready to do her scene, she goes, "Dad, I wanna kind of do this without you watching." Oh, OK, I can understand that (laughs). But you know what is so funny? She's kind of mastered the art of how to pull off her thing. I still see her as the 3-year-old girl down the hall ... (but) she just kind of got her act together here, and she knows how to pull off Nicole, which is amazing. I'm still kind of in awe over that.
Q: Is the attention on her ever annoying to you?
A: Oh no no no! As a matter of fact, I get on the phone and say, "Nic, do you hear all that screaming behind me? ... Those are your fans in Japan and China." And she's like, "China?" Even to her, she can't believe how far around the world she's been. ... She probably right now is still not aware how large she is around the world. And even as a father, I'm still in denial - you must know this.
Q: How hard is it for you to hear rumors of her weight issues or her love life?
A: It's too much information for any father. Normally, there are secrets that I would have kept from my Mom and Dad - I mean, they would have picked me up from the road and said, "Come on home" if half of this information was out on me back in the day. But it's kind of like the norm now. And I love what they're doing now. All that they can't write about you, they just make it up, and in case the picture didn't come out exactly like they wanted, they'll just Photoshop it for you. So there are a lot of tools. The thing about it is, as long as I can see her with my own two eyes, the answer is, OK, I know what's going on.
Q: Reunions always make a lot of news. Any plans for a Commodore reunion?
A: If I had one basic thing to change in my whole life story, there would be a Commodore reunion - a Commodore tour, a farewell tour at least. That's the only thing that we missed out on in this whole story. On (my) tour coming up - its going to be a big tour coming up - somewhere in the middle of this tour we are going to surprise a few people and show up with the Commodores, just to set the groundwork for something that may come in the future.
Copyright 2018 The Associated Press. All rights reserved. This material may not be published, broadcast, rewritten or redistributed. We strive to uphold our values for every story published.