It may have come by the slightest of margins, but Kansas University won its first Big 12 Conference volleyball match in a five-set thriller with Texas A&M; University.
"You've got to protect your own court," KU coach Ray Bechard said. "And we did that - barely."
Wednesday night at the Horejsi Family Athletics Center, KU trailed 15-14 in the final game before senior outside hitter Jana Correa scored two consecutive points.
Texas A&M;'s Mary Batis overhit the next shot, sending the ball out of bounds and the Jayhawks into jubilation.
"That's the best feeling ever," said Correa, who had 24 kills.
The exultation was reasonable, considering the deficit the Jayhawks overcame for the victory. After losing game one, 30-28, KU trailed 19-13 in game two before tying the game at 20 and prevailing, 30-26.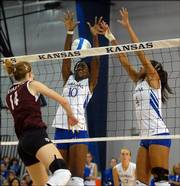 Junior Emily Brown said the Jayhawks emphasized playing from behind during practice, and the experience of dealing with that adversity paid dividends.
"We always talk about in-game situations like that," Brown said.
During Wednesday's games, KU (8-4 overall, 1-2 Big 12) and Texas A&M; (7-4, 0-3) played evenly throughout.
Momentum ebbed and flowed between two conference foes. Before the extended fifth game, KU won the third game, 30-28, and lost the fourth, 31-29.
"I thought we were going to win," Bechard said. "I thought they were going to win, and then we won."
With the dramatic victory, the Jayhawks can even their league record by defeating Colorado University on Saturday. Facing the Buffaloes without a victory would have left the team in dire straits, Bechard said.
"It would have been devastating," Bechard said. "There was some urgency."
Several players ensured the team did not face a winless conference mark. According to Brown, sophomore Savannah Noyes, who had 22 kills, deserved the limelight.
"Savannah was a rock star tonight," Brown said. "She played so well. She had a lot of energy."
Brown, a preseason All-Big 12 selection, played impressively with 24 kills and 16 digs, but also committed 15 errors.
"She's done a great job," Bechard said. "She's not going to like the 15 errors, but when people are keying on her, a little bit of that's going to happen."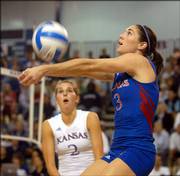 Such mistakes represent a need for improvement for the entire team. KU committed 13 service errors and lacked aces.
"That's a crazy stat," Bechard said. "We did what we wanted to do effectively in the first couple of games, and then I thought we got a little tentative serving."
Perhaps KU's tenacious work ethic allowed the team to overcome the statistical anomaly.
Correa, who underwent reconstructive knee surgery last year, crashed into the padded area beneath the media table after Texas A&M; took a 27-26 lead in the fourth game. She returned without missing any action.
Junior Natalie Uhart, who underwent season-ending surgery Sept. 12 after injuring her knee during August's alumni scrimmage, saw the play unfold. She spent her second game on the sideline, helping the KU coaching staff.
"She's got such good eyes and gives so much good information," Bechard said. "She's doing great."
The same could be said for the rest of the Jayhawks after earning their first conference victory.
Copyright 2018 The Lawrence Journal-World. All rights reserved. This material may not be published, broadcast, rewritten or redistributed. We strive to uphold our values for every story published.