After a volleyball match against BYU, Emily Brown walked off the court feeling proud that the Jayhawks handed the Cougars their first loss of the season.
The junior right-side hitter smiled - but she wouldn't let post-game interviews begin.
"Wait, wait a sec," she told reporters. "Before we start ... was that not awesome?"
Awesome it was for Brown, who helped sweep then-No. 16 BYU with 20 kills. Since the season started, she has been the new face of Kansas University volleyball.
Brown carries a personality that cannot be mistaken for anything other than optimistic, loyal or joyous. In fact, you'd think Brown won the lottery on a daily basis, despite playing against Big 12 competition every week, studying for her health & physical education classes, ripping apart game film of No. 1 Nebraska, or attending practice. These seemingly daunting tasks are only welcomed by the Baldwin native's can't-miss attitude.
"That's just the person I am," Brown said. "Everything I do, I do it for fun. My freshman and sophomore year, I was kind of nervous, but this year, I'm letting loose and making sure I'm having a good time. It usually goes better that way. You play better."
Brown carries her type-A personality on the court as well.
"I think she stays aggressive by being animated," Kansas coach Ray Bechard said. "It goes a long way in terms of spreading it throughout the team."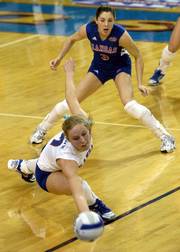 If you've ever seen Brown play in Horejsi Family Athletic Center, the way she combines agility and grace with power and aggression is obvious. She perfects the art of the volleyball kill. If you're not familiar with volleyball lingo, just picture a momentum-swinging, body-flying hit in football. It announces a presence and might swing the momentum of the game. In volleyball, the kill involves instinct and mental preparation.
"I see the block (on the other side of the net) and think, you know what? I'm just going to swing, so I swing as hard as I can and see what happens, and so far I've been pretty lucky," Brown said, laughing.
That's instinct. Brown was quick to point out there's also plenty of technique that goes into it.
"You've got to focus on their block and where they're setting up," Brown said. "In the Big 12, even if you think you have that shot open, you've got to remember that you have two 6-foot-5 girls on the other side of the net. Sometimes it's not a matter of trying to make the ball hit the floor, you've got to hit it off their hands so it goes out of bounds."
As a sophomore, Brown averaged fewer than three kills per game. In 11 games as a junior, Brown is averaging 12.72 kills per game, and has notched as many as 22 - twice - this season.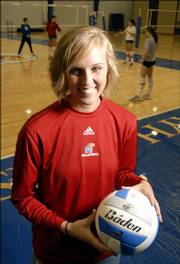 Bechard has utilized Brown at several positions other than outside hitter this season. As a result, she rarely comes out of a match.
"I know there are times where she could use a little break," Bechard said. "But that's probably not going to happen."
Playing every minute of every game is nothing new to Brown. Volleyball was instilled in her family since she was little. After all, her mother, Jill, along with her aunt, Jo Huntsinger, played volleyball at KU. Her other aunt, Jen, played at East Tennessee State.
But Brown wasn't always set on volleyball growing up in Baldwin.
"I was a huge basketball player," she said. "I knew I was going to college to play basketball."
Until her junior year of high school, when Brown said she knew volleyball was her calling. Although she played basketball since third grade, and volleyball since seventh grade, she saw more of a future in volleyball - so she became a Jayhawk.
"I knew I wanted to come to KU," Brown said. "When I was younger, I grew up a huge fan watching the men's basketball games."
Brown's friends and family from Baldwin have appeared at games throughout her KU career.
"She's a great representative of our program," Bechard said of Brown. "It's really special to get a kid that close to home. Plus, she guarantees 30-40 fans every match."
Kansas will play host to Texas A&M; at 7 tonight in Horejsi Family Athletic Center.
Copyright 2018 The Lawrence Journal-World. All rights reserved. This material may not be published, broadcast, rewritten or redistributed. We strive to uphold our values for every story published.