It was a happy mystery across Lawrence for a few days, but one that has almost disappeared overnight and may never be fully explained.
Gasoline prices here, usually higher than in surrounding cities, were actually lower in the past couple of weeks, with some pumps showing $2.10 and $2.13 per gallon of unleaded gasoline. But by end of the day Tuesday, most Lawrence stations had gone back up to $2.25, more in line with the prices in other Kansas towns.
That's still considerably lower than the $3-plus prices seen at station pumps earlier this summer.
"It's a lot better, but I'm still riding this," said Michael Hillix, of Lawrence, as he pumped gas into the tank of his 94 Honda Shadow motorcycle Tuesday afternoon at Food Mart store and gas station, 1733 Mass.
Hillix bought his motorcycle two years ago so he would have a cheaper option for transportation than his pickup truck. Because gas prices have been so volatile, he said, he has no plans to cut back on using the motorcycle.
No good answers
Before prices begin moving upward Tuesday afternoon, the average price of a gallon of regular unleaded in Lawrence was $2.15, according to Kansas AAA's fuel gauge Web site. That was 12 cents lower than the average price in Kansas City, Kan., or Overland Park.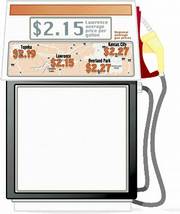 Traditionally, Lawrence gasoline prices have been higher than those in the Kansas City area as well as other cities or communities. A year ago, according to the automobile association, the average price in Lawrence was $2.69 while in Kansas City it was $2.56.
Prices in nearby cities were slightly higher than Lawrence's latest $2.15 average. In Topeka, a gallon of unleaded gasoline was $2.19. Observers in Ottawa said a common price at stations was $2.19. In Wichita, the price was $2.18.
Why the difference in prices among cities? Though there are many factors that go into setting prices, representatives of the oil, gasoline and travel industries were hard-pressed to explain.
"I don't have any really good answers," said Tom Palace, executive director of the Kansas Petroleum Marketers and Convenience Store Assn. in Topeka.
Palace's best guess, however, centered on sales taxes. Kansas City stations have to compete with stations right across the border in Missouri, he noted. Missouri taxes are cheaper than Kansas. So Kansas filling stations close to Missouri must hold prices as low as possible to stay in the game with competitors across the state line.
"That doesn't necessarily mean they are going to be lower than Lawrence or other towns in the state, though," Palace said.
Palace also offered a simple explanation why Lawrence prices recently have been lower than Kansas City. Local stations have been trying to keep up with big chain stations, in particular QuikTrip, he said.
Robbi Reddy, owner of Fast Lane Conoco, 1414 W. Sixth St., said he had been selling at a loss of 7 cents a gallon as he tried to compete with the lower prices QuikTrip has been posting. But he and other stations relented and raised their prices to $2.25.
Lalith Lokanandi, manager at the Food Mart where Hillix was filling his motorcycle gas tank, agreed. Independent retail gas stores have a tough time making money on gas, he said.
Lower demand, lower prices
The nation is heading into a time of the year when gasoline prices typically drop, according to Kansas AAA spokesman Jim Hanni and Tim Carr, head of the energy and research section of the Kansas Geological Survey.
"Gasoline inventories are high, and the driving season is over," Carr said. "There's more gasoline chasing less demand, so prices have fallen."
The nation hasn't experienced a severe hurricane season like it did last year when the Gulf states were struck by Hurricanes Katrina and Rita. Damage from those hurricanes caused refineries to shut down and sent gasoline prices rocketing. The nation is just now gaining respite from those disasters, Hanni said.
"There was some built-in jitteriness over anticipated problems with refineries in the Gulf, and that just didn't happen," Hanni said.
The oil, gasoline, refinery and pipeline systems are operating at maximum capacity, so any blip can cause a problem, Carr said.
"In the supply system, there isn't a lot of slack," he said.
Events in foreign countries also affect the price of oil and gasoline, Carr and Hanni said.
"If Hezbollah and Israel start throwing missiles at each other again and Iran gets involved, it's those kinds of things could cause a problem," Carr said.
David Curtiss said he was resigned to dealing with high gas prices, even if they have dropped in recent weeks.
"I try to go where it's cheaper," the Lawrence man said as he filled the tank of his pickup truck at Fast Lane. "I don't want to walk."
Copyright 2018 The Lawrence Journal-World. All rights reserved. This material may not be published, broadcast, rewritten or redistributed. We strive to uphold our values for every story published.