A new year. More students. And another portable classroom.
That's been the trend for several years now at Hillcrest School, 1045 Hilltop Drive.
Is it time to quit plopping in portables as a solution to the school's growing enrollment, now at 467 students?
"We're probably at a point where we need to decide what we want to do with Hillcrest," said Tom Bracciano, division director of operations and facilities planning for the Lawrence school district.
Bracciano talked about plans for Hillcrest on Tuesday as several school board members visited the school briefly as part of their daylong tour with stops at seven schools.
Bracciano said school officials have several options for Hillcrest:
¢ They could take the building built in 1954 as a two-section school (two classrooms per grade level) and add on to it to make it a three-section school.
¢ They could change school boundaries to send students to other schools.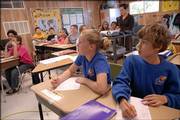 ¢ Or they could spread the English as a Second Language program to other schools. Hillcrest now houses most of the district's ESL students, though some are at Cordley.
"Right now, I think all the options are open: to look at boundary changes, to look at program changes, to look at expanding the building and kind of going the way we are," Bracciano said.
The district has about $3 million to $5 million a year available in its budget for capital outlay projects, such as construction and building maintenance, he said.
Planning for a Hillcrest expansion would take about a year and construction, another year, he said.
There is no money targeted for Hillcrest in the $54 million bond issue that was approved by voters in 2005.
"That bond issue did not include anything for the elementary level, and someday we're going to have to address those needs districtwide," board member John Mitchell said.
-->
Meanwhile, Hillcrest is getting along with its fifth portable classroom, said Tammy Becker, the school's principal.
It is used for music instruction on one side and by special education teachers on the other. Two classes of third-graders and two classes of sixth-graders also are in portables, she said.
"If the district could build, that would be wonderful," Becker said. "I know parents definitely need to see something done with portables."
That's a sentiment shared by Ann Patterson, president of Hillcrest's parent-teacher organization.
Patterson, who has had children at the school the last 10 years, said the district should quit using portables as a "Band-Aid" fix.
"It's like the cheapest way is to drive one in there and plop it down and solve Hillcrest's problem for today instead of looking a little bit ahead," said Patterson, a Kansas University professor of architecture.
Even if portables are used, their placement should be better planned instead of being "almost thrown onto the playground," Patterson said.
"Everyone sees crowding," she said. "But I see a lack of planning."
More about school construction
Copyright 2018 The Lawrence Journal-World. All rights reserved. This material may not be published, broadcast, rewritten or redistributed. We strive to uphold our values for every story published.