Norman, Okla. — A phone call from Oregon coach Mike Bellotti was nice, but it did absolutely nothing to soothe Oklahoma coach Bob Stoops over an incorrect officials' ruling that likely cost his team a victory over the Ducks.
"He just apologized and said that it's unfortunate that the two of us have got to be in the middle of it," Stoops said Tuesday at his weekly news conference. "I said, 'Well, you didn't do anything wrong but play hard, and that's the same thing we were trying to do.'"
Stoops still was speaking out after Saturday night's 34-33 loss in Eugene, Ore., a game in which a blown call on an onside kick led to Oregon's winning touchdown in the final minute.
The Pacific-10 Conference admitted Monday the onside kick was touched by an Oregon player before it traveled the required 10 yards, and, therefore, possession should have been awarded to Oklahoma. The league suspended the officials responsible for one game, and commissioner Tom Hansen apologized for the mistake.
Had Oklahoma been given the ball, the offense could have run out the clock for a 33-27 victory.
At Oregon, Bellotti said some might view the win as tainted.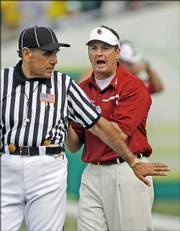 "I feel very fortunate for us to have won that football game, not for the officials' errors, but for how our team played," he said. "We were lucky, we made plays and we never gave up. It's unfortunate that any team had to lose, or the efforts of my players are questioned, because of officials' errors."
Bellotti told Stoops when officials determine the outcome it's not good for either team.
"And I can understand their frustration," Bellotti said.
Stoops said he was addressing the issue "for the last time" so his 17th-ranked Sooners (2-1) could get ready to play Middle Tennessee.
Stoops also disputed a pass-interference call on the winning drive. The league reviewed that play, too, but found there was not indisputable evidence to reverse the call.
He also said OU might consider canceling its game at Washington in 2008 if the Pac-10 doesn't change its rule requiring league officials to be used at its home stadiums for non-conference games.
Jim Muldoon, associate Pac-10 commissioner, said the league would examine the issue when athletic directors meet Oct. 12.
Copyright 2018 The Associated Press. All rights reserved. This material may not be published, broadcast, rewritten or redistributed. We strive to uphold our values for every story published.