Kansas City, Mo. — Angels manager Mike Scioscia doesn't mind relying on rookie pitchers. Still, it's nice to have veteran hitters to back them up.
Robb Quinlan and Vladimir Guerrero homered to back rookie Joe Saunders, and the Los Angeles Angels beat the Kansas City Royals, 5-2, Tuesday night as they tried to gain ground in the AL West.
Saunders (6-3) struck out a career-high eight in seven innings, allowing one run and seven hits. He escaped a bases-loaded, one-out jam in the fifth when he struck out Emil Brown and Ryan Shealy.
"Joe pitched well," Scioscia said. "Kansas City is tough. They've got an offense - with Mike Sweeney back in the middle of it - that can score runs if you're not getting the ball in the right spot. When guys got on, Joe made some pitches."
Kansas City clinched its third straight last-place finish in the AL Central, the first time that has happened in the history of the franchise. The Royals (58-93) must win five of their last 11 games to avoid their fourth 100-loss season in five years.
"We had a couple of chances, but couldn't come up with the big hit," Kansas City manager Buddy Bell said.
The Angels, who have 11 games left, began the night 61â2 games behind division-leading Oakland.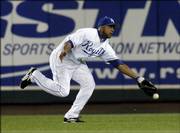 With the victory by Saunders (6-3), Angels rookie starters improved to 18-5 this season.
"It comes down to talent," Scioscia said. "I think these guys are good. They throw the ball extremely well, and we're supporting them when they pitch. A lot of people call them young pitchers. I think pretty soon you're just going to be calling them good pitchers."
Saunders escaped a bases-loaded, one-out jam in the fifth when he struck out Emil Brown and Ryan Shealy.
"I buckled down and tried to keep the ball down," Saunders said. "I had better command tonight. I could throw all three pitches for strikes. They were hitting it all around the park on me, so it wasn't just one pitch. When the opposing team knows you can throw everything you've got for strikes, it benefits you."
Francisco Rodriguez pitched the ninth for his major-league-leading 43rd save in 47 chances.
Jose De La Rosa (3-3) allowed four runs, four hits and four walks in 62â3 innings. The Angels have won 12 of their last 14 games in Kansas City.
"I thought he did a great job," Bell said. "He only gave up two hits through six innings. Both were home runs and both were legit, but the kid pitched great. We probably took him a little bit further than we needed to."
Copyright 2018 The Associated Press. All rights reserved. This material may not be published, broadcast, rewritten or redistributed. We strive to uphold our values for every story published.