Gary Woodland won his first career collegiate event last fall, but his victory Tuesday at the Kansas Invitational was more special because of who was able to see it.
"For me to win the golf tournament and go out and execute was huge, and it was great to have my family and friends out there," Woodland said.
The Topeka native fired a final- round 72 and cruised to a comfortable four-shot victory against Houston's Jordan Irwin at Alvamar Country Club. Woodland finished the tournament at 9 under par during the three-round event.
Irwin was paired with Woodland, and Woodland used that to his advantage, making sure that he stayed in control of the tournament. He started off quick, going three under through the first eight holes, but he gave those shots back down the stretch to finish at even par. Woodland was up eight over Irwin with six holes to play, before Irwin was able to close with a two-under 70.
"I wanted to go low, but I obviously didn't want to do anything stupid either," Woodland said. "I knew where I was and I did what I needed to do. I played conservative."
Kansas University coach Ross Randall knows that this victory would get Woodland noticed nationally.
"This win is just going to reset him again," Randall said. "He pretty much dominated this event. It is going to help him rekindle that desire to try and be a dominating player."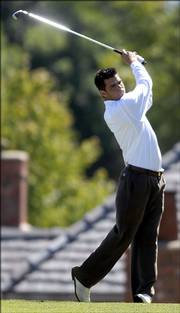 Thanks to Woodland's performance at the three-round tournament, coupled with fellow senior, Tyler Docking finishing in a tie for fourth place, Kansas won its third straight Kansas Invitational. Kansas finished 20 shots over Iowa State and Nebraska, which tied for second place.
"It definitely gives us the confidence and the knowledge that we can go out there and play well," Docking said of the win over 15 other schools. "Granted it was on our home course but the fact that we won by 20 shots should be pretty definitive."
Docking said he could have shot better during the tournament and struggled on the green putting.
KU's Barrett Martens had a solid final round after struggling on Monday. Martens fired the low round for the Jayhawks on Tuesday, a one-under 71.
"He was down in the dumps and didn't want to be a part of anything after yesterday when he got done," Randall said. "He had a good round today, and that helps a great deal."
The win for Kansas was even better considering they beat two conference opponents in Iowa State and Nebraska.
"There are a lot of good teams in our conference, and if we can beat as many as we see that can only help in the conference rankings," Randall said. "You never want to lose to another conference team at home if you can help it."
Kansas will not play again until the Windon Memorial Classic on Oct. 8 in Glencoe, Ill.
"If we continue to play like this, we are going to be a pretty good team," Randall said. "It gives you confidence and gives you the incentive to work a little harder and we are going to do a lot of that over the next few weeks."
Copyright 2018 The Lawrence Journal-World. All rights reserved. This material may not be published, broadcast, rewritten or redistributed. We strive to uphold our values for every story published.