Pittsburgh — Police charged two men Tuesday with shooting five Duquesne University basketball players after a school dance, and they accused a 19-year-old sophomore of helping get the men and their friends into the dance despite knowing some were armed.
Brandon Baynes, 18, was arraigned on five counts of criminal attempt at homicide. Prosecutors also filed charges of aggravated assault, criminal conspiracy and weapons counts against him and William Holmes, 18. A reckless endangerment charge was also filed against Holmes, who is still being sought.
Three players remained hospitalized following Sunday's shootings after the dance. The most seriously wounded, junior forward Sam Ashaolu, 23, was in critical condition with bullet fragments in his head.
Brittany Jones, accused of helping get some young men with guns into the party, was arrested Monday on charges of reckless endangerment, carrying a firearm without a license and criminal conspiracy. She was arraigned and posted bond Tuesday morning.
According to the criminal complaint, Jones - who is active with the Black Student Union, which sponsored the dance - got a call from a man asking whether he and his brother could attend. They arrived with four others, including Baynes and Holmes, about midnight, according to police.
While walking to the party, Jones told police, she became aware that several of the men had guns, authorities said.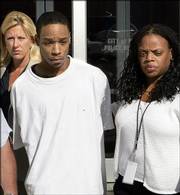 They asked Jones whether they were going to be "patted down" before entering, officials said. The doorman reportedly told Jones partygoers weren't being searched, and the men went into the dance, police said.
According to the criminal complaint against Baynes, a witness at the dance reported hearing an argument and saw two men firing guns at the victims. Using driver's license photos, the witness identified one man as Baynes.
Besides Ashaolu, the other injured players were junior guard Kojo Mensah, 21; 6-foot-7 forward Stuard Baldonado, 21; junior center Shawn James, 23; and Aaron Jackson, 20, a guard who is one of only two returning players from Duquesne's 3-24 team last season.
Baldonado was in fair condition Tuesday with arm and back injuries; he likely won't play this season because his back injury will require two to three months of rehabilitation. He was expected to be released from the hospital by the end of the week.
Copyright 2018 The Associated Press. All rights reserved. This material may not be published, broadcast, rewritten or redistributed. We strive to uphold our values for every story published.