He has attention deficit disorder, post-traumatic stress disorder from childhood abuse and a learning disability, and he was taking anti-psychotic medicine.
So was his hourslong statement to police, given in multiple interrogations during the course of three days, voluntary?
That was the question Tuesday in a court hearing that delved into the mental state of Jason A. Rose, 21, who's charged with setting the fire last fall at Boardwalk Apartments that killed three people and seriously injured eight others.
Rose's attorney is asking a judge to rule that his statements to police can't be used in court because they were not voluntary - a question that will hinge on Rose's age, intellect, background and the fairness of the officers who interviewed him.
Lawrence Police Detective Troy Squire, who interviewed Rose after the fire, was the only witness Tuesday during the roughly three-hour hearing in District Court. He answered questions about his videotaped interview with Rose from Assistant Dist. Atty. Amy McGowan and defense attorney Ron Evans.
Squire testified he first encountered Rose after learning Rose was a resident of the complex, in the 500 block of Fireside Drive, who had called 911 to report the fire. In an interview in a booth at a Wendy's restaurant where Rose worked, he at first told officers he'd seen the fire start on the south end of the building and spread north - a description that Squire said didn't match what other witnesses saw.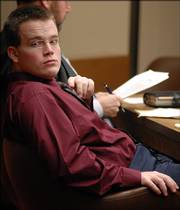 When officers took Rose to the scene to ask him to point out where he saw the fire start, he changed his story and said it started in a different place. Squire said he thought Rose was "struggling with deception."
"Or mentally?" defense attorney Evans asked.
"Could be a lot of things," Squire said. "I took it as deception."
Around that time, Squire said, he learned from state officials that Rose had been in trouble in the past for setting fires while in foster care. The state sent him a fax of about 20 pages of background on Rose, which Squire said he reviewed quickly while Rose was waiting in an interview room.
Evans said Squire should have known from those documents that Rose had been the victim of physical, sexual and emotional abuse as a child, had been diagnosed with mental-health troubles and was taking a variety of drugs. But Squire said he was mainly reading those reports to find evidence of past fire setting.
"I would have liked to have had days to look into Jason before interviewing him. That's not how this played out," Squire said.
Squire testified that a Social and Rehabilitation Services employee told him Rose had a history of setting fires. But the only one mentioned in the initial stack of documents Squire saw was an incident seven years earlier in which a foster home staff member found a smoldering rubber glove in a trash can in Rose's room.
Squire said Rose eventually admitted setting about 20 fires, but he acknowledged some of them were legal fires such as campfires.
Eventually, Rose admitted setting a piece of paper on fire outside the building, according to prior testimony. When police told him something that small couldn't have started the fire, he said he set a box of paperwork on fire.
After Rose told police he didn't want to talk any more, Squire testified, he asked police what would happen if investigators found out he didn't set the fire and it was caused by a natural gas line.
Judge Jack Murphy said he would first watch interview footage of Rose's interrogation before deciding the issue. Rose is scheduled to stand trial Feb. 6.
Boardwalk Apartments Fire
More on the Boardwalk Apartments Fire
Copyright 2018 The Lawrence Journal-World. All rights reserved. This material may not be published, broadcast, rewritten or redistributed. We strive to uphold our values for every story published.