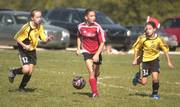 The final whistle pierced through the high winds and about 15 girls, all of them dressed in green uniforms, ran across the field, shrieking in delight.
The U10 Shawnee Elite United had just beaten the KC Strikers Gold, 6-0.
The girls were about to get lunch and a break from the mid-morning heat. It wasn't just any typical weekend for soccer in Lawrence, though. Saturday the Kaw Valley Soccer Assn. played host to the fourth annual Kansas Cup All-Girls soccer tournament.
Those girls, even at age 9, had another game after lunch and at least one more on Sunday. That made for plenty of togetherness, Simon Ambrose, Elite United coach, said.
"When we're only playing one game a week, I don't get to spend much time with the girls," Ambrose said. "This gives them time to be together. It really builds their spirit."
The tournament, held Sept. 15-17, was high on spirit, thanks to 70 teams and more than 1,100 players.
Team chants, cheers and clapping routines were the norm at YSI in Lawrence. Parents crowded along the sidelines to take in as much of the action as possible.
Stephanie Kure, whose daughter Allison plays for U9 BVSC Fiorentina, said she was impressed with the tournament.
"It's really well-organized, and the fields are in good condition," Kure said.
Keith Meyers, Premier Chair and tournament director, said things could still get better in terms of soccer fields in Lawrence.
"We do have a long-term need in Lawrence for soccer fields," Meyers said. "Based on the interest, we could be hosting tournaments of more than 100 teams."
As it was, a few games were played away from YSI, on fields at Langston Hughes Elementary and Lawrence Virtual School.
"We have a great partnership with the school district and the city," Meyers said. "It is helpful to have a cooperative relationship. And of course, you can't pull something like this off without tremendous volunteer support."
The tournament returns the favor to Lawrence, bringing a few thousand people to town. That bodes well for local businesses, Meyers said.
The tournament boasts teams from all across Kansas, as well as a handful from Nebraska and Missouri. The majority of those teams stayed in hotels last weekend.
Meyers said a number of teams were actually in Topeka hotels, because local ones were filled to capacity.
Considering the fact all those players and their families would most likely be eating out, shopping and looking for entertainment during their stay, Meyers said, "It's just good for the community."
Meyers also said he is actually looking for a company or organization to sponsor the cause and put its name on the tournament in the future.
And he said he strongly believed this tournament is a good cause.
"First of all, it brings competitive soccer into Lawrence," Meyers said. "A lot of our local teams will never get the chance to see some of these others again."
Both Mayor Mike Amyx and Governor Kathleen Sebelius wrote letters in support of the tournament. Those letters appeared in the Kansas Cup program.
Meyers said the support of such prominent officials is well-deserved.
"If you think about what this means for people, you're giving kids a really good outlet for their energy and time," Meyers said. "Obviously you want them to get skilled. But they get so many life skills and friendships out of soccer."
Coach Ambrose agreed.
"It's really all about the girls having a good time," he said.
Copyright 2018 The Lawrence Journal-World. All rights reserved. This material may not be published, broadcast, rewritten or redistributed. We strive to uphold our values for every story published.