The death toll grew to five Monday in an East Lawrence house fire that killed four children and a grandfather - a blaze firefighters said was the most deadly they could recall in the city's history.
"It's bad enough when you lose a family member, but yesterday they pretty much lost a whole family," said Elaine Winn of Praise Temple Church of God in Christ, where Charles Glover Sr. attended with the four children he was helping to raise.
As of Monday, there was no word on what caused the fire early Sunday at 1205 N.J. or where in the home it started. Specialized fire investigators searched through the rubble by hand throughout the afternoon and consulted at the scene with Lawrence Police detectives.
When asked if foul play had been ruled out, Mark Bradford, Lawrence-Douglas County Fire & Medical chief, said only, "The investigation is continuing."
Bradford said Monday that firefighters had recovered the bodies of three young boys late Sunday and early Monday while searching through the burned two-story home. Found in the rubble were Nolan Vender, 13, a Central Junior High School student; DaVonte Brockman, 11, a New York School student; and Mario Johnson, 2.
The previous day, firefighters had identified two victims: Glover Sr., 66, and Mariyana Johnson, 13 months.
Photo Gallery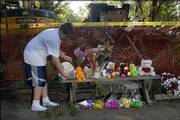 Fire at 1205 New Jersey
Glover's wife, Learlean, was rescued from the burning home by neighbors and emergency personnel. She was listed in good condition Monday at Lawrence Memorial Hospital.
"She's lost everything," said William Glover, Charles' younger brother.
Bradford said that the only indication he had whether there were working smoke detectors in the home was Learlean Glover's statement that she had heard an alarm inside the home.
Family background
Family members said that DaVonte, Mariyana and Mario all were children of Charles Glover's daughter, Ann Brockman. The family said she has been unable to care for the children. In 2002, she survived being shot in the head in East Lawrence.
Nolan was Learlean's grandson, and his parents also were unable to care for him, family members said.
Charles and Learlean married a few years ago after the death of Glover's previous wife in 1999, and they all lived together in the home.
"I think he was doing what he could for his little grandbabies, and I hate that it happened like that," said Josephine Galloway, 72, who lives down the street and is a member of Glover's extended family.
Four agents from the U.S. Bureau of Alcohol, Tobacco, Firearms and Explosives, along with two investigators from the state fire marshal's office, were on the scene Monday afternoon. They spent some time pointing out aspects of the fire scene to supervisors of the Lawrence Police Department's detective division.
Bradford said he would not make a follow-up statement about the case until there was a final determination of the origin and cause of the blaze.
Community reaches out
Response to the fire could be seen throughout the community on Monday. In front of the home, friends placed flowers and stuffed animals.
"They're good people, good people," said Kelly Cobb, whose son was a playmate of Nolan's and often spent time at the home.
Fire at 1205 N.J.
Fatal fire at 1205 N.J.
The Lawrence school district used a team of grief counselors to help students deal with the loss. Chancellor Robert Hemenway, who saw Charles Glover daily, issued a statement that called him "a great and caring person, a very proud and devoted grandfather."
"Charles and his family were an important part of KU and Lawrence," Hemenway said.
The family's church, Praise Temple, announced that The Glover Memorial Fund had been set up through U.S. Bank to help Learlean Glover. Donations can be mailed or taken to any bank branch. Anyone wanting to donate goods and services can call the church at 856-4444 or 749-3448.
Funeral arrangements had not been announced Monday, but the church will hold a vigil from 6 a.m. to 7 a.m. today, and it will be open from 9 a.m. to 1 p.m. for individual prayer.
Bradford said that, as far as he knew, it was the largest loss of life in a residential fire in Lawrence history. Outside the city limits, five Kappa Sigma fraternity members died in August 1976 in a fire at Baker University caused by careless smoking.
Copyright 2018 The Lawrence Journal-World. All rights reserved. This material may not be published, broadcast, rewritten or redistributed. We strive to uphold our values for every story published.