The musician and the athlete. One quirky but a natural leader; the other, a shy child just coming out of his shell.
Both talented and smart. Both had their bright futures cut short.
Nolan Vender, 13, and DaVonte Brockman, 11, lost their lives in a fire at their grandfather's home Sunday night.
Talented musician
Not long ago, Nolan's guitar had a broken string - bumps and bruises from the rigors of steady strumming.
He carried it into Praise Temple Church of God and Christ - the church his grandfather, Charles Glover Sr., helped found - and asked for help.
"The pastor and I took it to get repaired one day," said Elaine Winn, wife of the Rev. Paul Winn.
The budding musician used the church as a place to practice his music - something that, over the years, became a large part of his life, Winn said.
There was more to Nolan's life than music. He played soccer for the youth team The Handsome Devils.
Photo Gallery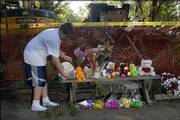 Fire at 1205 New Jersey
Central Junior High School students remembered other quirks about Nolan: Sometimes, he'd burst out singing a Christmas carol or a rap about himself. He was an artist and a musician - personas that aren't always popular in junior high.
"I know a lot of people who wish they could take back what they said and did to him," classmate Natascha Spiridigliozzi.
At times, he could be a mischief-maker. Classmate Whitney Thomas said that at the beginning of the year, he grabbed a girl's purse, ran to the boys' bathroom and flushed it down the toilet.
"All the girls liked him, and the guys would get jealous," she said.
But many remembered him for music, the songs that would escape his instrument every time he took the stage during a school concert or stepped into the band at his church.
Sondra Mosely, a Central music teacher, said Nolan was more than a talented pupil.
For example, how many 13-year-olds begin composing their own music?
"I was looking for a tutor for him," Mosely said. "He was so advanced for an eighth-grader."
She began to explain more about his playing and the school concerts he performed in, but she stopped short.
"Look, I loved the kid," she said, her voice choking. "This is so difficult."
A true teammate
On Monday at the East Lawrence Recreation Center, Roger Ross had a speech to give to more than 50 children who were in second through sixth grades.
Ross, head coach of a Lawrence Youth Football League team called The Twisters, had to let the team members and their parents know that DaVonte, an offensive and defensive lineman, had died.
"He was a teammate, boy. That was my teammate," Ross said from the sidelines.
The sixth-graders, DaVonte's teammates, heard the news of his death before their game Sunday, which they lost.
On Monday, Ross had to tell the rest of DaVonte's teammates.
Fire at 1205 N.J.
Fatal fire at 1205 N.J.
"It's real hard," he said. "It's amazing how stuff like this happens."
Teammate Tyrone Jenkins, a cousin and fellow lineman, said practice suddenly changed for him.
"You really can't come home from school and go to practice without Von," he said. "But he's gone. You can't talk to him no more about grades or none of that. It's sad."
The coaches hurt, too.
Bobby Birhiray, defensive coordinator, described him as an amazing kid, an avid reader and musician who had a knack for sports. A natural athlete.
Ross agreed.
"This kid had a future," he said.
Ross said the league plans to place DaVonte's No. 92 on every league player's helmet for the rest of the season and to retire his jersey at the Twisters' game Oct. 1.
Copyright 2018 The Lawrence Journal-World. All rights reserved. This material may not be published, broadcast, rewritten or redistributed. We strive to uphold our values for every story published.