The Perry-Lecompton school district expects to lose students but add bus routes and hire more drivers to deal with the closing of the Lecompton bridge next year, Supt. Steve Johnston said.
"What we would like to do is find shuttle points and pickup points so we can minimize the additional time (students will spend) on the bus," Johnston said.
The district opposes closing the bridge, which spans the Kansas River linking Perry and Lecompton. But despite those objections and others from the Jefferson County Commission, Douglas County commissioners are sticking with their plan to close the bridge instead of leaving a lane open while repairs are made.
During their meeting Monday, Douglas County commissioners announced they will send Jefferson County a letter this week outlining their stance.
Johnson and Jones have repeatedly said they think the best option is to close the bridge. That would "be more manageable, safer and more humane," Jones said.
Jefferson County commissioners insist one lane should stay open to avoid hurting businesses and schools.
A long ride
The school district is waiting to find out exactly what happens and when the bridge will close, Johnston said. Then, the district will decide how to redraw and add bus routes and calculate how many students will be riding, he said.
"We anticipate we will have more riders than now because of the distance that people would be forced to drive to get to school," Johnston said.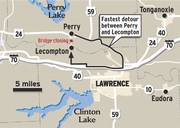 Johnston also is concerned some of the district's students who live in Douglas County will transfer to the Lawrence school district or Shawnee Heights in Shawnee County rather than abide the long detour to Perry schools. Fewer students would mean less state financial aid to the district. More than 300 students daily may ride buses across the bridge from both sides of the river, estimated Mike Copple, the district's director of support services.
The trip from Lecompton to Perry-Lecompton High School over the bridge takes about five minutes to go 2.3 miles.
Test drives by the Journal-World on Monday showed it takes about 30 minutes to drive a 25-mile detour from Perry-Lecompton High School to Elmore Street in Lecompton. That detour extends east on U.S. Highway 24 to Lawrence; taking Interstate 70 west to the Lecompton exit and paying a 40-cent toll; then driving to Lecompton using North 1800 Road and County Route 1029. The time likely would be longer for buses and individual drivers, depending on the location of individual residences.
Johnston said he didn't know how many students might leave the district.
"I have to believe that people are going to make that decision to keep their kids off the road," he said. "I don't know that I blame them. That is a long drive."
Sharing cost?
Earlier this year, Jefferson and Douglas counties agreed to share the cost of the bridge work based on assessed valuation percentages. At that time, it was determined Douglas County's share would be 88.3 percent; Jefferson County's share, 11.6 percent.
The project's estimated cost is $3.3 million, if the bridge is fully closed. The work would take about 140 days. If Jefferson County participates, its share of the cost would be $385,056.
Estimates for repairs while keeping the bridge open are $4 million. Douglas County's share would be $3.5 million; Jefferson County's, $473,996. The work would take about 320 days.
Under the option preferred by Jefferson County, Douglas County commissioners are quick to note, the bridge would still be completely closed off and on for up to 60 days, and notice for closings would be short.
Jones and Johnson also said they wanted to see the contractor start soon enough in spring to be finished by the time school starts.
Incentives doubtful
"There is never a time when school isn't going in some respect at our schools, whether it be summer schools or camps," Johnston said. "There is always something going on, and there is always school business reasons to go back and forth."
Johnston said he wasn't convinced work could be done by the time school starts.
Without Jefferson County's participation, there will be little, if any, money available for incentives to the contractor to finish work quickly, Johnson and Jones said. They said Jefferson County could earmark its share of the cost for incentives, if it desired.
Jefferson County commissioners met Monday morning but did not discuss the bridge, Commissioner Lynn Luck said. She said the Commission hadn't changed its stance.
Douglas County commissioners asked County Engineer Keith Browning to work with the Kansas Department of Transportation to see if better signs or signals could be placed along U.S. Highway 24 north of Lawrence, where a curve has been the scene of numerous bad accidents over the years. They also asked the sheriff's office to see whether it can increase monitoring there during the detour.
Copyright 2018 The Lawrence Journal-World. All rights reserved. This material may not be published, broadcast, rewritten or redistributed. We strive to uphold our values for every story published.