Kansas City, Mo. — Gil Meche was glad the Seattle hitters had a better day than he did.
Chris Snelling and Kenji Johjima each homered, and the Mariners got 14 hits in a 10-5 victory Sunday over the Kansas City Royals.
"After about a third of an inning, I knew it was going to be a tough day to try to get through five or six," Meche said. "Luckily, I did."
Meche (11-8) gave up nine hits and five runs in six innings and fell behind 4-1 after four.
But the Royals' bullpen failed to hold the lead for the second time in this four-game series.
"I just kept trying to make pitches, trying not to fall into patterns," said Meche. "Everything I threw over the plate, they pretty much got to it. It was a matter of mixing my curveball in there as much as I could to get weak contact.
"I just let them put the ball in play, and that was pretty much how the day went," he said.
Ichiro Suzuki went 2-for-4 one day after reaching the 200-hit plateau for the sixth year in a row. He stayed in the game and got his second hit after Runelvys Hernandez hit him in the lower right leg with a pitch in the fifth.
Suzuki left in the ninth.
"It tightened up there in the ninth inning, and we really took him out so we could start treatment on him just as soon as we could," said manager Mike Hargrove. "So hopefully he'll be ready for tomorrow. But I think he's probably questionable."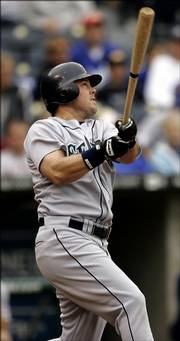 With the game tied at 5 in the seventh, Eduardo Perez had a pinch-hit RBI single, and Snelling homered off Joel Peralta.
The Royals (58-92) still need five victories in their last 12 games to avoid their third straight 100-loss season.
"We got five more games of this homestand to finish the year out here, and hopefully we'll finish strong," said manager Buddy Bell. "We're playing some pretty good teams. This month hasn't been easy in terms of who we play."
Johjima, who had an RBI in the fifth when he was hit by a pitch, made it 10-5 with a two-run shot off Jose Diaz in the eighth. The Mariners have won 16 of their last 21 games against the Royals.
Jimmy Gobble (3-6), who gave up a leadoff double to Raul Ibanez in the seventh, took the loss.
Shane Costa scored Kansas City's fifth run in the fifth on Johjima's two-base throwing error.
Costa was on second and straying far off the bag toward third when the Seattle catcher whipped a throw to shortstop Yuniesky Betancourt. But just as he threw, Betancourt started back to the bag and could not recover in time to stop the ball from flying into center field. Costa was safe on a close play at the plate.
The Mariners scored three in the fifth with the help of two hit batsmen.
Hernandez hit Suzuki in the lower right leg, putting runners at first and second, and then after Adrian Beltre's single loaded the bases with one out, Johjima was also hit.
Snelling jogged home with Seattle's second run before Richie Sexson's single tied it 4-all.
Ryan Shealy's two-run double put the Royals on top 2-0 in the first inning and gave him 11 RBIs in the four-game series.
"He's got quite a knack for driving in runs," Bell said. "He doesn't panic at the plate. He stays pretty much locked in all the time. He has one approach, and it's an aggressive one."
David DeJesus made it 3-0 with an RBI grounder in the second. Jose Lopez cut the lead to 3-1 with a sacrifice fly in the third.
Esteban German extended it back to a three-run lead with an RBI single in the fourth.
Notes: The announced attendance was 9,817, but there appeared to be only about 5,000 people in the stands. ... Royals C John Buck sat out a second straight game due to a pulled left hamstring. He figured to be back by Tuesday. ... The Royals are on pace for their first winning September since 1996. ... Johjima's home run extended his hitting streak to 10 games.
Copyright 2018 The Associated Press. All rights reserved. This material may not be published, broadcast, rewritten or redistributed. We strive to uphold our values for every story published.