Hutchinson — The Liberty Bell 7 has returned to Hutchinson, first landing at the Kansas State Fair before it is to return to the space museum where it was restored after its retrieval from the ocean in 1999.
The Mercury Spacecraft, which carried Gus Grissom on a successful 15-minute suborbital flight in 1961 before landing in the Atlantic Ocean, has been on a six-year national tour. It was at the fair over the weekend and is scheduled to return today to the Kansas Cosmosphere and Space Center.
"When we figured out it was coming home at this time, it made sense to bring it here to the fair and celebrate with all of Kansas," said Daniel Bateman, space-science educator at the Cosmosphere.
Bateman said it was the first time a spacecraft that had been flown has been shown at the fair.
Morgan Elementary School second-grade teacher Sarah Nicks was happy that a student field trip Friday coincided with the capsule's arrival.
"We just read a story this week about space," Nicks said.
Kevin Thomas, of Wichita, happened upon the display at the fair's Oz Gallery while on his way to the quilts with his wife.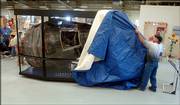 "I'm surprised someone would get in something so small," he said, peering at the spacecraft's cramped seating quarters.
Little River resident Lanny Cobb could remember when the spacecraft launched 45 years ago but hadn't seen it in person until coming to the fair Saturday. He was happy it was returning to the Cosmosphere - "where it belongs," he said.
Cosmosphere President Jeff Ollenburger also is excited the capsule is returning. A crane will lower it into the space museum today, unless rain makes the ground too soft.
"For us, that's going to be a big day, a big milestone," Ollenburger said.
The Cosmosphere's display is scheduled to open Tuesday, although the rest of the Liberty Bell 7 exhibit won't be in Hutchinson until later in the week, according to Ollenburger.
Copyright 2018 The Associated Press. All rights reserved. This material may not be published, broadcast, rewritten or redistributed. We strive to uphold our values for every story published.