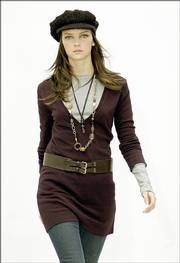 Piled-on layers reigned supreme on the catwalk, but it's important to remember that runways are not reality - they're a designer's way of presenting a concept, rather than something to interpret literally. Before you load on those layers, consider these made-for-the-real-world styling tricks:
¢ New to the concept? Try a bright, strappy tank under a dark, wide-neck blouse. It's an easy-to-implement idea (you likely already own both pieces), and the straps will add a shot of color to any outfit.
¢ Making this trend work on your bottom half tends to be more tricky. In general, two layers works (dress over pants; denim skirt over leggings) but anything more is too much. Relegate bright colors and/or patterns to the outermost layer: Cool as red-and-white striped leggings under a plaid mini can be, most folks will find the combo tough to pull off.
¢ Monochromatic layers look great if you play with texture - a crocheted wool cardigan, say, over a crinkled-silk tunic with cotton leggings and studded suede flats, all in varying shades of gray and black. Avoid head-to-toe cotton layers - they tend to be a little "Flashdance."
¢ Balance is essential: If you layer on top, streamline your lower half with straight-leg jeans tucked into knee-high boots. (And if you're adding bulk via layered skirts and leggings, think small when it comes to your top.)
¢ When you've got this much going on fashion-wise, it's best to keep hair and makeup simple. One option: a wide, 60s-inspired headband, a stylish way to skim back your locks in one fell swoop.
Copyright 2018 The Lawrence Journal-World. All rights reserved. This material may not be published, broadcast, rewritten or redistributed. We strive to uphold our values for every story published.