The Kansas University soccer squad held on for a 2-0 shutout against the University of Central Florida.
However, there was a "but" coming from the Jayhawks following Sunday's game at the Jayhawk Soccer Complex.
"The one thing I told the team today was that there was a lot of positives today," KU coach Mark Francis said. "We created more chances in the game today than any other game over a 90-minute period. But I thought our finishing could have been a little bit better."
The Kansas (5-2) attack put up 21 shots, with eight of them on goal. Six of those eight came in the second half.
"I think that's just something ... finishing just comes with repetition," said Holly Gault, who scored the first KU goal. "So I think this week we're just going to work on finishing some balls and getting some goals."
With the offense shooting blanks, the defense clamped down hard on UCF, allowing just eight shots, with three of them on goal.
"When they had the ball, I thought we did a really good job of pressuring the ball and making it difficult for them to play," Francis said. "Most of the time we forced them to give the ball away by forcing a pass they didn't want to play, and we picked it off, and, collectively, that was our organization defensively, and I thought the kids worked hard to be able to do that."
Goalkeeper Julie Hanley stepped up following the three goals she allowed against Pepperdine on Friday in a 3-1 loss.
"I think they had one, I would say, legit chance," Francis said, "and that was in the first half on a header, and then Julie comes up and makes a big save. For her, it's good to get the shutout, but I thought she did a great job commanding the box. So it was good to see her play with so much confidence today.
Photo Gallery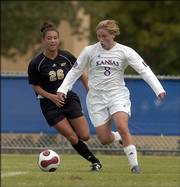 KU soccer vs. Central Florida
"And I think that the defenders feed off of that. They see their keeper playing well, and they'll feed off of that."
Jessica Bush also bounced back from the Pepperdine game, where she didn't get a shot on goal in just 43 minutes.
"I struggled a little bit on Friday, so I just wanted to come out today and kind of pick my game up a little bit," Bush said.
Bush assisted Gault for the goal in the first period. And then Gault returned the favor in the second half, hooking Bush up for her first goal of the season.
"Holly and I ... work on at practice, like her getting the ball, laying it off to me, and then I look back for her," Bush said. "She does a really good job of moving off the ball so it kind of makes my job a little bit easier."
The victory comes on the cusp of Big 12 Conference play. The Jayhawks will start on the road at Oklahoma State on Friday and travel Sunday to Oklahoma.
"Timing-wise, it's good," Francis said of getting a win to end the non-conference schedule. "Going into the conference with a win, but also a good performance.
"Conference is always a little different. There's a little extra something special when you go into the games - there's a little more at stake. So it's exciting."
Copyright 2018 The Lawrence Journal-World. All rights reserved. This material may not be published, broadcast, rewritten or redistributed. We strive to uphold our values for every story published.