Irving, Tex. — From Terrell Owens talking about his broken ring finger and upcoming surgery to Bill Parcells saying he felt "sick" because of how many penalties and other mistakes his team made, the Dallas Cowboys' locker room was a somber place.
Imagine how bad it would've been if they had lost Sunday night.
Drew Bledsoe steadied the offense just as he said he would, and the defense was superb, leading the Cowboys past the rival Washington Redskins, 27-10, in a game that seemed to have as many negatives as positives for the winners.
Coming off a loss and going into a bye, Dallas needed the victory to avoid a quarterback controversy and all the other negatives that come with an 0-2 start. For now, being 1-1 and in a three-way tie for first in the NFC East only helps stem the disappointment of Owens going under the knife Monday and being out two to four weeks.
"I'm going to try to get back as soon as I can," said Owens, whose rehab will be motivated by an Oct. 8 game in Philadelphia. "I feel like I'm a quick healer. Once we have the surgery, the healing process will start."
Owens, who missed most of the preseason because of a hamstring injury, said he was hurt early one of the first few plays of his home debut. He didn't tell anyone until the fourth quarter and was taken to the locker room for an X-ray.
The injury helps explain why he dropped so many passes - one in the end zone on Dallas' first drive and two others on high passes with defenders ready to pop him. He also was penalized for an illegal block on the Cowboys' first snap and later for lining up in the wrong place.
"We've got some guys that can step in," said Owens, who finished with three catches for 19 yards, all in the first quarter.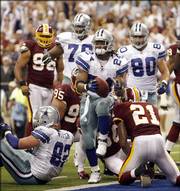 Washington could use some guys to step up now that it is 0-2, its worst start since going 0-5 under coach Marty Schottenheimer in 2001.
"I think we have a lot of things we need to fix to win football games," Redskins coach Joe Gibbs said. "Certainly, this is a tough time for us."
Colts 43, Texans 24
Indianpolis - Peyton Manning and the Colts played a near-perfect game. The Texans and David Carr looked like, well, their old selves.
Manning threw three touchdown passes, broke one of John Unitas' franchise records, and the Colts scored on six of their first seven possessions to dominate Houston.
For Indy (2-0) - 9-0 all-time against the Texans - it was another milestone day.
Manning broke Unitas' franchise record for completions, Marvin Harrison moved into fifth place on the NFL's receptions list, and Tony Dungy earned his 50th regular-season win as Colts coach.
Manning's second TD pass, a 21-yarder to rookie Joseph Addai, gave him 2,797 completions - one more than Unitas had in his Colts career. Manning finished 26-of-38 for 400 yards and had a 129.3 rating.
Chargers 40, Titans 7
San Diego - LaDainian Tomlinson ran for two first-half touchdowns, and Shawne Merriman led a defense that's starting to take this "Lights Out" thing seriously.
Six days after blanking the Raiders, the Chargers came within 3:09 of consecutive shutouts for the first time in club history. Titans' No. 1 draft pick Vince Young threw an 18-yard touchdown pass to Drew Bennett to end the bid.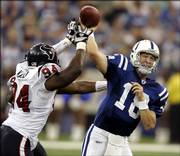 Merriman, nicknamed "Lights Out" for his hard hits, was at it again against Tennessee (0-2). The linebacker intercepted a pass, batted away two others and San Diego (2-0) held the Titans to 218 total yards and 14 first downs, many of them late in the game.
Seahawks 21, Cardinals 10
Seattle - Seattle started with touchdowns by Shaun Alexander and Darrell Jackson on its first two drives before a strong pass rush and repeatedly blown opportunities by the bumbling Cardinals.
Defending conference champion Seattle is 2-0 for the third time in four seasons despite Pro Bowler Matt Hasselbeck throwing two interceptions and going just 12-for-27 for 221 yards - his first game under 50 percent passing in two seasons.
Patriots 24, Jets 17
East Rutherford, N.J. - The student gave the teacher a scare, but Bill Belichick's Patriots held off a late rally by Eric Mangini's Jets.
New England (2-0) took a 24-0 lead on touchdown runs by Corey Dillon and Laurence Maroney, and a TD catch by Chad Jackson. But the Jets stormed back in the second half.
Bears 34, Lions 7
Chicago - Rex Grossman had his best game as a pro, and the Bears' defense silenced Detroit's Roy Williams and the Lions.
Grossman set career highs with 289 yards and four touchdown passes to lead Chicago (2-0). The quarterback completed 20 of 27 passes with no interceptions and set a career high in yards for the second straight week after throwing for 262 in a season-opening win at Green Bay.
Vikings 16, Panthers 13, OT
Minneapolis - Minnesota wanted a seasoned, reliable kicker when they signed Ryan Longwell away from rival Green Bay this spring. Who knew he could play quarterback, too?
Longwell's 16-yard TD pass to Richard Owens on a fake kick tied the game in the fourth quarter, and his third field goal - from 19 yards with 7:25 left in overtime - lifted the Vikings (2-0).
Giants 30, Eagles 24 OT
Philadelphia - Eli Manning brought the Giants back from a 17-point deficit in the fourth-quarter and threw a 31-yard touchdown pass to Plaxico Burress with 3:11 left in overtime.
On third-and-11 from the Eagles 31, Manning avoided a blitz and lofted a pass to Burress, who outjumped Sheldon Brown to make the catch and get in the end zone.
Falcons 14, Buccaneers 3
Atlanta - Led by Michael Vick and Warrick Dunn, Atlanta took its running game to a whole new level. And the defense fared just fine without John Abraham. Dunn ran for 134 yards against his former team, Vick added to one of his own NFL records with 127 yards rushing, and the Falcons set a franchise record with 306 yards on the ground.
Bengals 34, Browns 17
Cincinnati - Chad Johnson made a toe-tapping catch in the corner of the end zone, popped up and flapped his elbows in a "Chicken Dance" celebration. Then, he shuffled to the bench in pain. It was that kind of a day for Cincinnati, which won despite losing three starters due to injury - a troubling turn for the defending AFC North champs.
Saints 34, Packers 27
Green Bay, Wis. - Drew Brees overcame three early turnovers by throwing for 353 yards, and New Orleans (2-0) is heading home unbeaten. They will play their first game in New Orleans since 2004 a week from tonight against Atlanta. The Saints, of course, spent last season without a home after Hurricane Katrina ravaged their city and the Louisiana Superdome.
Ravens 28, Raiders 6
Baltimore - No shutout this time, yet there was little else Baltimore's defense didn't accomplish against inept Oakland. The Ravens forced six turnovers, got a safety from Adalius Thomas and kept the Raiders out of the end zone. Matt Stover kicked four field goals for the Ravens (2-0).
Bills 16, Dolphins 6
Miami - Even with an injury-depleted defense, Buffalo ruined Daunte Culpepper's first home game before his new fans. The Bills sacked Miami's quarterback seven times - five in the first 15 snaps - plus blocked a punt and survived a woeful passing effort in beating the Dolphins.
49ers 20, Rams 13
San Francisco - Antonio Bryant caught a 72-yard touchdown pass from Alex Smith, and San Francisco's defense stood strong in the final minutes of its second straight home-opening win over its oldest rivals.
Copyright 2017 The Associated Press. All rights reserved. This material may not be published, broadcast, rewritten or redistributed. We strive to uphold our values for every story published.