Some walked for miles across Kenya's rough terrain to see a team of doctors from Lawrence - the first time many of them ever received any medical attention.
"Distance is not an obstacle to people helping other people," said Steve Segebrecht, a Lawrence surgeon who spent more than a week there on the medical mission.
"Everybody has gifts that they can share with people thousands of miles away. That has an unbelievable impact on their daily lives and brings a wonderful gift called hope," he said.
Segebrecht was joined by Kiernan O'Callaghan, a Topeka surgeon who lives in Lawrence, and Lawrence optometrists Dan Smith and Aaron Wilmes as they treated about 600 patients during a week in August.
"It was impressive how far these patients had to come. I heard a story about someone who walked for six hours," O'Callaghan said.
The medical team
The doctors were part of a 17-person contingent with others from the area and across the country as part of Comfort the Children International, a nonprofit organization founded three years ago by Kansas University graduate Zane Wilemon.
This was Segebrecht's second mission to the Maai Mahiu village west of Nairobi. It is an impoverished rural village that is home to an orphanage and sits on a road known as the "AIDS Highway."
The team of physicians saw patients who suffered from chronic eye and ear diseases. They also treated plenty of infections related to HIV.
Photo Gallery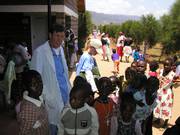 Comfort the Children
Translators from a nearby seminary helped the doctors.
CTC International receives support from area churches, including Trinity Episcopal Church, and the doctors offer patients a cross and sometimes a prayer after treatment.
The medical team also included O'Callaghan's wife, Paula, who helped run the pharmacy, and nurse Janice Fager, who lives in Reading. Fager had never left the country before, but one week after the group returned, she gave a lecture to a group about Kenya, Segebrecht said.
Wilmes said the children of Maai Mahiu would greet him on the street and call him "big dog" in Swahili.
"It's just different how people handle their illness over there," he said. "Little cuts and scrapes are nothing over there. They are very strong-willed and fantastic people."
A library dream
Others in the group, including Richard Smith of Topeka, helped organize patients and set up a library in Maai Mahiu.
Lawrence-area residents and several Kansas school districts have donated 2 tons of books in the last year, and businesses have helped ship them overseas. The KU School of Architecture donated 12 computers to the library.
Once the library was organized, two librarians from Kenyan universities lauded the project and have since wanted to partner to expand the library.
"People said this is the first time they have ever seen anything like this done in Kenya, in any of the rural areas," Segebrecht said.
Controversy, a birthday
Audio Clips
Comfort the Children
The team members experienced some tension in Maai Mahiu on the final afternoon they treated patients there. They received word from the national health minister to shut down the local clinic because they didn't have permission.
Wilemon said it was a miscommunication, and he later met with the health minister. He agreed to inform the national health minister the next time they wanted to set up a clinic.
Despite having a warrant out for his arrest in the ordeal, Wilemon said it made him want to continue to do work there because the locals rallied around the mission team.
On their final day operating, the doctors treated patients at a remote, rural building where many Maasai tribe members walked to the clinic from miles away.
"We saw a lot of patients - a lot of very sick patients that day," O'Callaghan said.
That evening, they returned to Maai Mahiu and set up a clinic in the orphanage instead of the local health clinic, where they were forced to stop working the day before. Many of the orphans were the ones denied treatment one day earlier when they stopped working.
Later, the orphans sang "Happy Birthday" to O'Callaghan, who turned 61.
"It gives you some empathy for what is going on in other parts of the world," O'Callaghan said. "It also makes you grateful for what you have here. We take comfort and cleanliness for granted, and there it's a luxury."
Life-changing
Dan Smith, a Lawrence optometrist, said many of the patients suffered from eye infections because of the dry climate and the dust that blows in the area. Eye drops, artificial tears and other medications were helpful.
"Very simple therapies provided tremendous relief for most of them," he said.
The doctors and the rest of the mission team shared their own gifts with those in need, Smith said.
"I am commanded to serve," he said. "If one of my areas to serve is through optometry, I am compelled to do it."
Wilemon said CTC International planned to send doctors on another medical mission there next summer.
The group also is working on plans to build a community center in Maai Mahiu. KU architecture faculty and students have designed a building.
"The picture is becoming less hazy. It's more concrete," Wilemon said. "People's lives really are being changed for the better. It's incredible."
Segebrecht and others will make a presentation about the trip Oct. 22 at the Lawrence Public Library. They will announce the time later.
Copyright 2017 The Lawrence Journal-World. All rights reserved. This material may not be published, broadcast, rewritten or redistributed. We strive to uphold our values for every story published.