Mazatlan, Mexico — Hurricane Lane slammed into a sparsely populated stretch of Mexico's Pacific coast south of the city of Culiacan on Saturday after battering the resort of Mazatlan with strong winds and rain.
The storm, which hit land at Category 3 strength, flooded streets, forced the airport to cancel flights and knocked out power in parts of Mazatlan, a resort and retirement community popular among Americans. It forced officials to cancel the traditional Independence Day parade. After it made landfall, the National Hurricane Center in Miami downgraded it to a Category 1 storm.
At 10 p.m. CDT, the storm was about 30 miles north-northwest of Culiacan, the capital of Sinaloa state and a center for the region's booming agriculture and food-processing industry. It was moving north at 8 mph and had maximum sustained winds of 85 mph.
Culiacan, a city of 750,000 is also notorious as the hometown of several of Mexico's top drug traffickers. People living in low-lying areas were evacuated and shelters were set up for the displaced.
Earlier, the hurricane took an unexpected turn toward the mainland and caught Mazatlan off guard. Many awoke to strong winds and a pounding rain. Previous projections had Lane heading toward the Baja California peninsula.
There was no electricity early Saturday at the Hotel Royal Villas, where receptionist Alma Baldez and other employees scurried to hand out candles to guests taking refuge in their rooms. Many had just arrived at the hotel after a long night celebrating Mexico's Independence Day. City officials canceled Saturday's celebrations as the storm approached.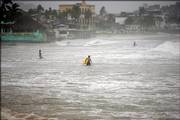 "It's really ugly out there," Baldez said.
Later, dozens of surfers paddled out to massive waves whipped up by the storm, and residents splashed in knee-deep puddles.
"It was strong. It hit badly, but it could have been worse," said Carlos Borcio, a 25-year-old tourist visiting from Culiacan who was watching the waves and drinking beer with two friends.
Jesus Martinez rode his bike to work through flooded streets.
"It's better this way," he said. "Normally, it's really hot, and now it's nice."
Copyright 2018 The Associated Press. All rights reserved. This material may not be published, broadcast, rewritten or redistributed. We strive to uphold our values for every story published.