Artists have used their art to present their moral and political views for centuries. The Kirkpatrick Pottery in Anna, Ill., made useful storage jars and crocks from its founding in 1859. But the owners, brothers Cornwall and Wallace Kirkpatrick, also made one-of-a kind fantasy pieces that today's collectors seek. Experts think about 100 of these folk-art pieces were made. Some are pig-shaped bottles, about 6 inches long, decorated with incised lines showing railroad routes and events. Some are commemorative jugs that include the names of people and dates. But most unusual are the temperance jugs decorated with 3-D snakes, frogs and other creepy-crawlies. They are meant to show the evils of drinking. Recent prices for the snake bottles and other unique Anna Pottery pieces range into the thousands. In 1988, a record $16,500 was paid for a jug decorated with snakes and people.
Q: I recently purchased a Chippendale-style bedroom chest from an antiques dealer who was going out of business. It has 21 drawers, a single small door in the middle of the center tier, a pullout shelf in front that can be used as a desk and a smaller pullout shelf on each side. There's a platform at the bottom that pulls out so you can stand on it to reach the top drawers. A brass plate on the chest reads "Amos G. Rhodes, Tier Chest, No. 0166." Can you tell me something about the maker?
A: Amos G. Rhodes opened his first retail furniture store in Atlanta in 1875. Rhodes Furniture Co. eventually owned 80 stores in 13 states, but it went bankrupt in 2005. Rhodes Hall, the mansion Rhodes built in Atlanta in 1904, is now a museum.
Q: I bought two Steiff stuffed animals at the Steiff factory in Germany in 1984. One is a German Shepherd named Arco and the other is a brown bear named Cosy Lommy. Both have their body and ear tags. How should I store them and what are they worth?
A: Steiff was founded in 1877 and has made stuffed animals for well over a century. The most valuable ones are in excellent condition and date from the early 1900s, although Steiff has made some limited editions and museum replicas since the 1980s that sell for high prices. Your animals are not among those. You might find a collector willing to pay $50 or more for each of your animals. In the meantime, we suggest you make sure they're clean, and then store them away from heat, light and humidity.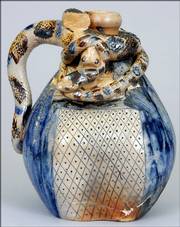 Q: My blue Roseville jardiniere is marked "671-8" on the bottom. All I have discovered about it is that it's in the Zephyr Lily pattern. Age and value?
A: Roseville Pottery was in business in Roseville and Zanesville, Ohio, from 1890 to 1954. The Zephyr Lily pattern is a late one, introduced in 1946. The pattern was made in three colors: Evergreen (green), Sienna (brown) and Bermuda Blue (blue). The numbers on the bottom of your jardiniere are the shape number (671) and the size (8 inches). Shape 671, however, includes both the jardiniere and a matching pedestal. If you have both pieces and they're in excellent condition, the set would sell for more than $1,000. The jardiniere without the pedestal sells for about $300.
Q: I have been told that my cast-iron Griswold corn-bread pan is worth something. It has seven sections that read, in order, "No. 21, Griswold, Corn Bread Pan, (blank), Erie, Penn., USA, (blank), 961." It's 9 1/2 inches long by 7 1/2 inches wide. Is it valuable?
A: Griswold Manufacturing Co. of Erie, Pa., made your corn-bread pan sometime between 1925 and the outbreak of World War II. The number 961 is the pattern number for the No. 21 pan. Griswold made all sorts of cookware from the late 1800s until the 1950s, and all of it is collectible. Prices range widely. If your pan is in great shape, it could sell for more than $100. But if its condition is not so good, you'll be lucky to get $10 for it.
Q: Recently you wrote about an old tin windup frog. That reminded me of the old tin windup ladybug my uncle gave me years ago. It's red with white dots and black feelers and legs and is 4 1/2 inches long. The built-in key is on the bottom. When you wind it up, it travels on two wheels and wiggles its feelers. The marks on the bottom include the year 1911, an SG logo and the name S. Gunthermann's.
A: S. Gunthermann was founded in Nuremberg, Germany, about 1877 and became one of the world's most respected manufacturers of metal vehicles and other toys. Your ladybug, patented in 1911, could sell for up to $200 if it's in excellent, working condition.
Tip
Don't lock furniture with antique locks. If they stick, it is almost impossible to open the door or drawer without damaging the wood.
Current prices
Current prices are recorded from antiques shows, flea markets, sales and auctions throughout the United States. Prices vary in different locations.
Avon bottle, Stage Coach, dark amber, copper-colored plastic front, 1970-77, 3-by-5 inches, $10.
¢ Michael Todd's "Around the World in 80 Days" board game, 1957, box, Transogram, $60.
¢ Watts spaghetti bowl, bull's-eye pattern, red, yellow and green, $80.
¢ Edwardian corset, two stocking suspenders at back, green-blue heavy cotton, X-shaped embroidered trim, c. 1918, waist measures 22 inches, $90.
¢ Cambridge individual salt and pepper shakers, Caprice pattern, moonlight blue, round, 2 7/8 inches, $125.
¢ "Tim Tyler in the Jungle" Big Little Book, 3 full-color pop-ups, King Features copyright, 1933, $225.
¢ Madame Alexander Kate Greenaway doll, composition, brown sleep eyes, 1940, 13 inches, $510.
¢ Roseville Baneda pink vase, globular, c. 1933, 5 x 6 inches, $850.
¢ Georgian Irish silver fruit basket, basket-weave design, rope-twist rim, openwork swing handle, 1800s, 13 inches, $1,645.
¢ Empire sleigh bed, mahogany, paneled ends, curved sides with rails, block feet, 1859, 40-by-79 inches, $1,760.
Copyright 2018 The Lawrence Journal-World. All rights reserved. This material may not be published, broadcast, rewritten or redistributed. We strive to uphold our values for every story published.