New York — New York Fashion Week is basking in the success of the dress. It's already been a strong item for fall fashion, but it has emerged as the key piece for spring.
Tom Julian, director of trends for McCann-Erickson, said spring 2007 is taking its cue from a classic Audrey Hepburn look - with A-line shapes and minimal luxe fabrics - but adding a bit of a "Paris Hilton personality" with strapless tops and other sexy accents.
Shoppers will have their pick of dress silhouettes, since so many versions have been offered, including shifts, sacks, wraps, sundresses and halters.
Other things that have caught Julian's eye are trench and trapeze coats, blouses, walking shorts, miniskirts and even bold distinctive accessories.
"The checklist? The chemise, the cropped boxy jacket, the bell skirt, the angel sleeve blouse, an eyelet something," he said.
¢ Anna Sui: Sui took her audience to a bizarre "Alice in Wonderland" tea party that was crashed by some punk pirates.
Sounds about right for Sui, who relishes in her role as fashion's rebellious rocker chick, and her clothes reflected that. Many of the outfits were still wearable, even the unlikely pairing of a pretty black embroidered organza dress with a ripped mesh top.
A navy chiffon and gauze halter dress with a navy and cream striped knit T-shirt, a bold red floral print dress with a matching coat, and a drop-waist, lace-up, short-sleeve dress in the "multi tea party" print were among the looks that would look cute on Sui's sassy, stylish fans.
Photo Gallery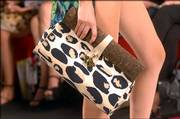 Fall fashions
A red floral scarf-print drawstring dress also was adorable from the front, but the back was missing, exposing the model's floral bikini bottom. Guess that was the point.
¢ Michael Kors: So many little girls dream of being a dancer. After Kors' show, many big girls will dream of wearing dancer-inspired clothing.
To a soundtrack laced with music from the Broadway show "A Chorus Line," models went down the runway in full, fluid jersey skirts - the best ones, called "rehearsal skirts," were asymmetrical with a high slit on one side - and soft cashmere sweaters.
A tan silk georgette pleated dress with a black cardigan and black leggings would be the go-to outfit in any woman's closet because it was sexy, sweet and modest - and looked incredibly comfortable.
Other must-have looks were a cashmere sweater that slid down one shoulder worn with one of those tan rehearsal skirts, a feminine nude-colored silk chiffon skirt that practically floated, a jersey halter dress with a scarf that trailed behind, and a nude-colored eyelet trench coat.
Sticking to the theme, Kors offered light pink tap shorts but he balanced them with a long, slouchy blazer.
For the closet disco dancer, he showed a loose minidress covered in shimmering black paillettes and a white wrap shirt with a black paillette legging. Both outfits were full of pizazz.
A kimono-style shift in nude paillettes was a little more subtle, but just as seductive.
¢ Matthew Williamson: Anyone waiting for a blast of bright colors got it at Williamson's show, held inside a newly renovated building at a Hudson River pier.
An entire group of outfits seemed to be inspired by button candy - sweet little circles in all the shades of the rainbow.
Another section featured Southwest-style embroidery; the standout piece was a beaded dress in an airy apricot-colored fabric. There also were florals and a metallic lily pad print. Just go with it - this is the wild Williamson we're talking about.
Generally, many of the dresses were delicate and romantic, especially a gold pleated-front strapless dress with a tiny lace jacket and a light-as-a-feather capelet halter dress with an open back that was done in an airy cream-colored fabric.
There were some fiery dresses, too - remember the Argentinian connection? A red halter dress with a fitted top and flounced bottom would be perfect for dancing.
Copyright 2018 The Associated Press. All rights reserved. This material may not be published, broadcast, rewritten or redistributed. We strive to uphold our values for every story published.