Istanbul, Turkey — Pakistan's legislature unanimously condemned Pope Benedict XVI. Lebanon's top Shiite cleric demanded an apology. And in Turkey, the ruling party likened the pontiff to Hitler and Mussolini and accused him of reviving the mentality of the Crusades.
Across the Islamic world Friday, Benedict's remarks on Islam and jihad in a speech in Germany unleashed a torrent of rage that many fear could burst into violent protests like those that followed publication of caricatures of the Prophet Muhammad.
By citing an obscure Medieval text that characterizes some of the teachings of Islam's founder as "evil and inhuman," Benedict inflamed Muslim passions and aggravated fears of a new outbreak of anti-Western protests.
The last outpouring of Islamic anger at the West came in February about the prophet cartoons first published in a Danish newspaper. The drawings sparked protests - some of them deadly - in almost every Muslim nation in the world.
Some experts said the perceived provocation by the spiritual leader of more than a billion Roman Catholics could leave even deeper scars.
"The declarations from the pope are more dangerous than the cartoons, because they come from the most important Christian authority in the world," said Diaa Rashwan, an analyst in Cairo, Egypt, who studies Islamic militancy. "The cartoons just came from an artist."
The pope quoted from a book recounting a conversation between 14th century Byzantine Christian Emperor Manuel Paleologos II and a Persian scholar on the truths of Christianity and Islam.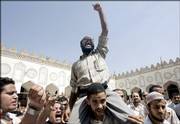 "The emperor comes to speak about the issue of jihad, holy war," Benedict said. "He said, I quote, 'Show me just what Muhammad brought that was new, and there you will find things only evil and inhuman, such as his command to spread by the sword the faith he preached.'"
The pope did not explicitly agree with nor repudiate the comment.
On Friday, Pakistan's parliament adopted a resolution condemning Benedict for making what it called "derogatory" comments about Islam, and seeking an apology. Hours later, the Pakistani Foreign Ministry summoned the Vatican's ambassador to express regret about the pope's remarks Tuesday.
Notably, the strongest denunciations came from Turkey - a moderate democracy seeking European Union membership where Benedict is scheduled to visit in November as his first trip as pope to a Muslim country.
Vatican spokesman Federico Lombardi has tried to defuse anger, saying the pope did not intend to offend Muslim sensibilities and insisting Benedict respects Islam. In Pakistan, the Vatican envoy voiced regret at "the hurt caused to Muslims."
But Muslim leaders said outreach efforts by papal emissaries were not enough.
Copyright 2018 The Associated Press. All rights reserved. This material may not be published, broadcast, rewritten or redistributed. We strive to uphold our values for every story published.