Photo Gallery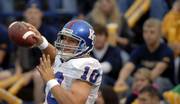 KU vs. Toledo football
TOLEDO, OHIO — The road woes continue for Mark Mangino's Kansas University football program.
With Friday's 37-31, double-overtime loss at Toledo that was ripe with missed opportunities, Kansas is now 3-18 on the road in Mangino's four-plus years as head coach.
This one ranks right up near the top in devastation because of how close the Jayhawks were. Needing any type of score in the first overtime after Toledo was blanked, Kansas instead muffed a handoff and lost the football. Toledo eventually won in the second overtime on a 25-yard run by Jalen Parmele.
"I'm not obsessed with this road thing," Mangino said. "Did we fumble the ball in overtime because we were on a strange field? We just didn't execute. That has nothing to do with it."
Probably not, but five turnovers and eight penalties were extreme mistakes for the Jayhawks, on the road for the first time this season. Mangino's now 21-30 as a head coach, and the home-road differential is startling. The Jayhawks haven't won a true road game since November of 2004, when they beat Missouri 31-14.
Mark Mangino talks about the Jayhawks' 37-31 double overtime loss to Toledo
"I guess the upside is if were losing at home all the time, nobody would talk about the road losses," Mangino said. "But we're winning at home, so that makes a conversation piece."
Still, Mangino shrugged off any possibility of the Glass Bowl rattling KU right to defeat. He instead pointed to the turnovers, some golden opportunities that were completely muffed and a Toledo team that finally pounced on a Kansas team that made itself vulnerable when the going got tough.
As to where the game was? Mangino thinks that was merely a coincidence.
"We've got to execute," Mangino said. "We just made a lot of mistakes tonight."
Copyright 2018 The Lawrence Journal-World. All rights reserved. This material may not be published, broadcast, rewritten or redistributed. We strive to uphold our values for every story published.