TOLEDO, OHIO — At this rate, Kerry Meier will turn everyone who watches him into a manic-depressive by alternately showcasing his considerable talent and leadership abilities with an abundance of rookie miscues.
He's going to make mistakes that enable opposing defenses to put points on the board. That's what freshmen do and that's why if Kansas University is going to play in a bowl game for the third time in four seasons, its defense is going to have to do the same.
So far it hasn't.
Three games into the season, the Jayhawks have forced two turnovers, neither of which came during Friday night's 37-31 double-overtime loss to the University of Toledo at the Glass Bowl.
Meier, who had a hand in all five KU turnovers, including four interceptions, could have used the help.
During the first overtime, KU basically needed only to hold possession after Toledo failed to score, in order to set up a chance to win it with a field goal, and couldn't do it. After regulation, KU's meltdown included a muffed handoff from Meier to Jon Cornish and a Meier interception.
On four of Meier's five turnovers, Toledo responded with a score.
During the game's first four quarters, Meier showed a magical ability to hide the ball, which aided his dangerous running ability and that of Cornish, his big-play partner. Meier also showed an ability to rebound from mistakes with confidence.
Photo Gallery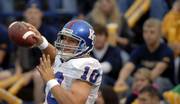 KU vs. Toledo football
Meier's most costly regulation blunder came in the fourth quarter. He took the Jayhawks on a drive that at least seemed bound for a go-ahead field goal. Then he dropped back to pass and locked in on Derek Fine in the right flat for so long he all but called a press conference to announce his intentions.
Barry Church, Toledo's freshman from Pittsburgh, demonstrated why announcers are always saying such a pass is "a very risky play." Church intercepted KU's red-shirt freshman from Pittsburg and returned it 84 yards for a touchdown that gave the hosts a 31-23 advantage.
After that seemingly fatal mistake, Meier needed only 3:16 of the clock to drive the team 69 yards on nine plays, the final one a 20-yard completion to Dexton Fields to pull KU within two points. Meier leaped into the air and landed in the end zone for the successful two-point conversion.
Church acknowledged what Meier did wrong on the mistake he turned into a touchdown.
"All game he was kind of looking down his receivers," Church said after the game. "When he looked down the tight end, I knew where to head on it. I timed it right and returned it for a touchdown."
Mark Mangino talks about the Jayhawks' 37-31 double overtime loss to Toledo
Church expressed an honest and accurate criticism of Meier, and Toledo quarterback Clint Cochran offered an honest and half-accurate praise of KU's first quarterback to start from his first game as a freshman.
"He had a great game," Cochran said of Meier, who did have a great game, except when he had an awful one. "On that two-point conversion, when he went up and over the top, that's all heart. You have to be able to step beyond what you're doing wrong and focus on what you have to do to win and he was able to do that."
Still young and in some ways raw, Meier needs the sort of help from his defense that Cochran received from his.
Copyright 2018 The Lawrence Journal-World. All rights reserved. This material may not be published, broadcast, rewritten or redistributed. We strive to uphold our values for every story published.