¢ As expected, cornerback Aqib Talib suited up and started at cornerback for the Jayhawks on Friday. KU coach Mark Mangino said all week that he wasn't completely sure what Talib's status would be, possibly as a smoke screen toward Toledo's preparation. Talib started in place of Raymond Brown.
Talib appeared to have trouble with cramping in the second quarter, but returned in the second half.
¢ Marcus Henry started at wide recever instead of Dominic Roux. He had four catches for 67 yards, including a 33-yard touchdown reception in the third quarter.
¢ Toledo quarterback Clint Cochran appeared to have suffered a cramp after being hit by Wayne Wilder in the end zone during the third quarter. He was tended to by a trainer and came out of the game. Brandon Summers came in and was sacked in the end zone on his second play. Cochran was back on the field for the next drive.
¢ For the second straight week, Kansas had no takeaways, despite focusing on it in practice. KU has two takeaways on the season.
¢ Jonathan Lamb saw increased action, both as a punt-return specialist and a receiver. He actually was on the field for more punt returns than regular first-teamer Brian Murph,but only had two punt returns to his credit.
¢ Toledo appeared to avoid Marcus Herford when kicking the ball off. Herford averaged 35.6 yards per return in KU's first two games, but short kicks limited Herford to only two returns out of four chances. He averaged 18 yards per return
Photo Gallery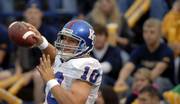 KU vs. Toledo football
¢ Scott Webb attempted a 48-yard field goal in the second quarter, which would have been his career-long. He had the distance but missed it wide right.
¢ Toledo defensive tackle Tyree Pollard was carted off the field after appearing to injure his left ankle in the second quarter.
¢ Punter Kyle Tucker had an overall solid game, pinning Toledo inside the 20 three times. He did shank a 22-yard punt in a crucial fourth-quarter situation, but KU's defense wiped out the mistake. His best punt traveled 50 yards.
¢ KU played an overtime game for the second time in the last five games. The Jayhawks beat Iowa State, 24-21, in the regular-season finale last year in overtime.
¢ Six true freshmen traveled with the team Friday - running backs Jake Sharp and Donte Bean, linebacker Maxwell Onyegbule, defensive backs Anthony Webb and Olaitan Oguntodu and wide receiver Tertavian Ingram.
Mark Mangino talks about the Jayhawks' 37-31 double overtime loss to Toledo
¢ Kerry Meier's four interceptions were a career high, and give him seven picks in three games. He's thrown five touchdown passes and run for four.
¢ Friday's game was the middle contest of a three-game series. Toledo will travel to Lawrence on Sept. 15, 2007 to complete to contract.
¢ Former Jayhawk wide receiver Leo Bookman, released recently by the Green Bay Packers, signed with the Oakland Raiders' practice squad this week.
¢ Cooper Castleberry was head referee in charge of the seven-man officiating crew out of the Big 12 Conference.
¢ Attendance was announced as 22,118. The Glass Bowl holds 26,248 fans, but high school football and a playoff game featuring the Triple-A Toledo Mudhens baseball team hurt attendance figures.
Copyright 2018 The Lawrence Journal-World. All rights reserved. This material may not be published, broadcast, rewritten or redistributed. We strive to uphold our values for every story published.