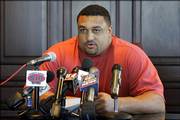 Kansas City, Mo. — In May, he said he was eager to tack one more year onto his great career. In July, he sent a jolt through the Kansas City Chiefs when he retired on the eve of training camp.
On Thursday, Willie Roaf said he is done playing professional football.
In a high-rise law office in downtown Kansas City, far removed from the stadiums and the cheers, the 11-time Pro Bowl left tackle who helped pave the way for one of the NFL's most dynamic offenses said his body couldn't take one more season.
"I often took my body for granted and played without thinking about tomorrow," Roaf said, reading from a statement. "I played hard and played only as if I was in the NFL for a couple of seasons. And 14 years later I stand beside you and realize I will no longer play football."
Roaf had called the news conference to discuss the pleas of Kansas City fans and football announcers who asked that he return to the franchise.
After reading the brief statement, in which he addressed none of those concerns, Roaf crumpled up his paper and walked from the room.
Copyright 2017 The Associated Press. All rights reserved. This material may not be published, broadcast, rewritten or redistributed. We strive to uphold our values for every story published.