Wichita — Atty. Gen. Phill Kline used a debate with his Democratic challenger on Thursday to defend a leaked memo outlining how he wanted his campaign to go about gaining support from conservative Christians.
The Republican said his political discussions in churches were healthy and good. In the memo, leaked this week to reporters, Kline directs his re-election campaign to make the most of political receptions held near friendly churches after their services.
Its instructions also included getting pastors to mention the events during services and getting them to bring a handful of "money people" to events.
"They didn't need to break into my campaign software program and computer and hack this information to know about it - I have been speaking in churches for more than 20 years now," Kline told about 500 people who came to Wichita State University to hear the debate.
Democratic challenger Paul Morrison, the Johnson County district attorney, said he was as surprised and shocked as anybody that Kline would be so cynical about using a church for political gain.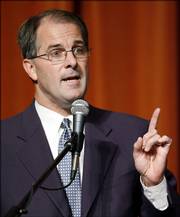 "I have never - and never will - view a church as a political machine for me," Morrison said.
He said the Founding Fathers spent a great deal of time and energy in deciding that church and state should be separate.
That prompted Kline to respond that separation of church and state refers to government not imposing a religion.
"It doesn't refer to people of faith not being able to express their opinion or hold public office," Kline said.
He also defended his campaign's use of e-mail addresses of people who have contacted the attorney general's office for help to solicit money and support. He said he checked with the Kansas Governmental Ethics Commission before using the material and was told it was not unethical. He said he allowed people to opt-out from further contacts.
Morrison said such actions spotlight the differences between the two candidates. He said he sees the world in terms of law enforcement, while Kline views his life through the prism of politics.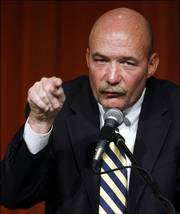 He said he would never have thought of using those e-mails to solicit support.
"I think that is a perversion of that information," Morrison said. "I don't know if it's criminal or not, but it sure is unethical. And I think that is a classic example of the difference between Phill Kline and myself."
Morrison said he runs a law enforcement office and would never think of using information from people who are seeking his help for his political advantage.
Among other issues, Morrison said he would support making probable-cause affidavits public in Kansas.
That became an issue when a Wichita man wrongly suspected of being the BTK killer was arrested and forced to give DNA samples. It took months before his attorney got a copy of the affidavit, and the public has yet to know what led police to suspect him as a serial killer.
Kline said he opposes opening up such documents.
Copyright 2018 The Associated Press. All rights reserved. This material may not be published, broadcast, rewritten or redistributed. We strive to uphold our values for every story published.