The nation's best-known researcher on homework has taken a new look at the subject, and here is what Duke University professor Harris Cooper has to say:
Elementary school students get no academic benefit from homework - except reading and some basic skills practice - and yet schools across the nation are requiring more than ever.
High school students studying until dawn probably are wasting their time because there is no academic benefit after two hours a night; for middle-schoolers, 1 1/2 hours.
And what's perhaps more important, he said, is that most teachers get little or no training on how to create homework assignments that advance learning.
Reasonable balance
But the Lawrence school district apparently has avoided much of what Cooper found wrong with America's approach to homework.
Here, according to students, parents, teachers and administrators interviewed by the Journal-World, there is a reasonable balance that seems to work well for most involved. Teachers receive no special training and are given broad latitude in how they assign homework. But complaints are sparse, and the students randomly interviewed Wednesday by the Journal-World either had no homework assignments or tasks that fell within the range of Cooper's recommendations.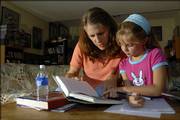 "It's never more than an hour and a half to two hours - never too much. It's enough to deal with," Joel Bonner, a ninth-grader at Central Junior High School, said after school let out.
"Some teachers give half an hour to an hour a day, every day of class. So, I think that's a fair amount," Bonner's schoolmate Matt Goering said. "I don't mind. I just get it done."
Free rein
Lawrence teachers are given a free hand in how much homework they assign and what it entails.
"We talked to our teachers about making sure that it's relevant and appropriate for the lessons being taught and it reinforces what they're doing and it's not just busy work," Supt. Randy Weseman said.
But beyond that it pretty much is up to the teachers.
That relatively relaxed approach seems to have worked well for the district. If it hasn't, few are saying so.
"I have not heard from parents on that topic," said Sue Morgan, school board president.
Morgan said there are always differing opinions about how much homework is needed or effective but that teachers know many students are busy after school with extracurricular activities, ranging from sports to music. With that in mind, they temper their homework demands.
-->
"I think teachers, by and large, recognize that and understand it, and I think some of the extended learning opportunities that go on after school probably supplant some of the homework," she said.
Older students
Weseman acknowledged homework can be a problem at the junior high and high school levels, because students aren't with the same instructor all day, he said.
"Teacher A is unaware that they're assigning homework on the same day as Teacher B," Weseman said. "But I think that's something we all went through as high school students and there's no mechanism in the system right now to act as a clearinghouse for teachers to coordinate that."
Weseman said Cooper's research shows too much homework might hurt, rather than help, some elementary students. Assigning homework to students with lower abilities - who can't do it anyway - doesn't work, Weseman said.
"It isn't about just giving them more work. The issue with those students is providing the correct instruction," he said.
Developing skills
Chris Bay, principal at Sunset Hill School, said that in his seven years at the school parents have complained very little about homework.
"On occasion we get complaints from families who say, 'Boy, we'd like to have more.' On occasion you get families who say, 'Boy, I'm working a double-shift and it's really difficult for me to support my child and get that work done at home.'"
Bay said the best model for elementary homework is practicing what the student has already learned and keeping the lessons short.
"I think one of the faults of education as a whole is to start giving homework for homework's sake," he said.
At Sunset Hill, students leave class with homework packets that have a specifically designated skill that a kindergartner or first-grader is working on, Bay said.
The homework takes about 10 minutes a night, he said.
Once the children have demonstrated proficiency on the designated skill three times, they get to move on to the next skill level, he said.
The purpose is to practice skills. But it also gets the parents involved, Bay said.
"That's been real effective for us, especially at kindergarten. They're really excited about homework," he said. "That tends to wane as they move up through the grades."
Bay said he took a survey during Parent Night recently at the school, asking parents their opinions about homework, such as how much is reasonable.
Bay said he hasn't done his own homework yet - he still needs to go through the survey to find out everything the parents said. But he got a sense as to what the survey indicated.
"At this point, it really seems like a nonissue because we don't get much concern and our teachers are really pretty sensitive to not overdoing it," Bay said.
Over-scheduling
That's also the feeling of Jack Mercer, who has a son, Jackson, in seventh grade at South Junior High School, and a daughter, Chloe, a sophomore at Lawrence High School.
"I can't remember a parent coming up to me that said they're concerned about the amount of homework," said Mercer, past president of Hillcrest School's Parent Teacher Organization.
"I never hear anybody complain about homework. Maybe the children. But not the parents, that's for sure," Mercer said.
Mercer said the real concern parents have is over-scheduling.
"I guess, homework, just as a subject by itself, is not really a concern. It's how can a parent make sure a child gets their homework done and be in soccer, in volleyball and football and all those other extracurricular activities," Mercer said.
Going high tech
Weseman said homework has changed significantly with technology; students now regularly use laptop, desktop and even hand-held computers, and research papers often involve using the Internet at home.
Some teachers even create Web pages for students to access to get assignments or to study, he said.
"It's kind of changed the face of how they do research projects or homework related to gathering data," he said.
A history of the back and forth of homework
Homework was not always inevitable for American students, as shown in this timeline of how schools have handled the issue: 1800s: Not many children progressed beyond grammar school, but those who did go to public high school got hours of homework that centered on memorization and drilling of facts and material to recite in school. Late 1880s: Reformist educators became concerned that homework, sometimes done in dim light, was harming children's physical and mental health. In Boston, Gen. Francis A. Walker, a Civil War hero chosen as the city's school board president, questioned its effectiveness, as well as its effect on young people, and persuaded the board to lessen math homework. Early 1900s: Dozens of school systems jumped on the anti-homework bandwagon, with restrictions placed on the amount of homework around the country. A national debate about it unfolded in national journals, including the influential Ladies Home Journal, whose editor, Edward Bok, considered homework "barbarous," and wrote a 1900 article titled "A National Crime at the Feet of American Parents." California even incorporated restrictions on homework into its state laws in 1901, declaring that kids younger than 15 should not have to do any. 1940s-60s: National debate on homework moves to permitting homework that is creative and specific to each student's needs. The Soviet Union's launch of the Sputnik satellite in 1957 prompted soul-searching about the U.S. education system, and homework got a boost from people who said the U.S. had fallen behind. 1980-90s: The 1983 release of a report called "A Nation at Risk," which denounced the country's school system, gave new impetus to the pro-homework movement. More schools started increasing homework. Today: It is unusual to find schools that do not give homework, and many school systems require it.
- Source: Partially adapted from "The Crusade to Abolish Homework, American Journal of Education, November 1996, by Brian Gill and Steven Schlossman.
Copyright 2018 The Lawrence Journal-World. All rights reserved. This material may not be published, broadcast, rewritten or redistributed. We strive to uphold our values for every story published.