Nine years after buying 40 acres in west Lawrence, city parks officials are now ready to do something with it. They're just not sure where to start.
"It's a neat area," said Fred DeVictor, Lawrence Parks and Recreation director. "Hopefully, we can pull the neighborhood together."
The land includes about 15 acres directly across George Williams Way from Langston Hughes School, as well as a ring of land surrounding the neighborhood to the east.
The city bought the land in 1997, and since then officials planned to level the field, build a playground and open space and create a trail circling the neighborhood.
DeVictor said the entire project could cost up to $700,000. In August, Lawrence city commissioners in their 2007 budget approved $200,000 to start the project.
"I know that money can only go so far, and we need to make sensible choices about how that money gets spent," said west Lawrence resident Raquel Alexander.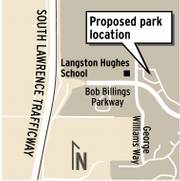 Alexander said she wants the city to begin work on the park because there's no public playground equipment available west of Wakarusa Drive.
"Let's get this part of the project done first, so our families have a place to picnic," Alexander said. "You can't picnic on a trail. You can't play soccer on a trail."
But many neighbors are encouraging the city to preserve the trail area before starting on the park.
"I just see it as a way for families to get in touch with nature," said Amy Bartle, who has three daughters.
Bartle's oldest daughter, Grace, walks to Langston Hughes School every day.
"Now, that Harvard Road is extended all the way through to George Williams Way, the only way for her to get to school is walking," Bartle said. "We have no bus service anymore, so if we have a trail system, it would provide an alternate way for the kids to walk to school without encountering a lot of traffic."
At this point, the parks department is keeping both options open.
Speak out
A public meeting to discuss the area will take place at 7 p.m. Wednesday at Langston Hughes School.
"Probably the most important thing for us is that we preserve as much of that open space and the wooded environment as we can," DeVictor said. "We're not going to come in and clear a lot of things."
DeVictor hopes to hear from neighbors at a public meeting at 7 p.m. Wednesday at Langston Hughes School. A recommendation of what to do first would emerge soon after that.
"We invite neighbors to come out and give their thoughts and input, so we can get started here with phase one later this fall or early next year," DeVictor said.
Copyright 2018 The Lawrence Journal-World. All rights reserved. This material may not be published, broadcast, rewritten or redistributed. We strive to uphold our values for every story published.