GAZA CITY, Gaza Strip — Hamas officials gave Palestinian President Mahmoud Abbas the go-ahead Tuesday for negotiations with Israel, a major shift in the militant Islamic group's position as it works to end its international isolation.
An Israeli military court, meanwhile, ordered the release of 19 Hamas officials - including Cabinet ministers and lawmakers - from an Israeli prison. The men, arrested by Israel after the June 25 capture of Israeli Cpl. Gilad Shalit by Hamas-linked militants, will remain behind bars for several more days pending an appeal by prosecutors.
Israel said the court decision was not meant to reward Hamas for its moves toward moderation.
"I don't think that right now we would be making gestures of goodwill for the Hamas. We would be making gestures of goodwill to Abu Mazen," Israeli government spokeswoman Miri Eisin said, referring to the moderate Abbas by his nickname. Eisin said the courts were independent of the government.
Hamas, whose ideology calls for Israel's destruction, reached agreement Monday with Abbas' Fatah Party to form a unity government in an effort to end the financial crisis crippling the Palestinian economy. International donors cut off aid to the Palestinian Authority when Hamas formed its Cabinet six months ago. Hamas is listed as a terror group by Israel and the West.
Abbas has long pushed for a resumption of peace talks with Israel, and Hamas said Tuesday he would have full authority to hold those negotiations.
Palestinian Prime Minister Ismail Haniyeh, a Hamas leader, said the government itself would not be involved in the talks because negotiations are supposed to be handled by the PLO, headed by Abbas. The distinction could allow Hamas to retain its hard-line credentials with the Palestinian street, while the government gains international acceptance.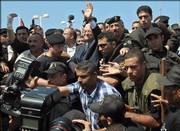 Ghazi Hamad, a spokesman for the Hamas-led government, told Israel's Army Radio in Hebrew that the Palestinians would be ready to establish a state in territories captured by Israel in the 1967 Mideast War - the West Bank, Gaza and east Jerusalem.
Visiting Spanish Foreign Minister Miguel Moratinos said the new Palestinian coalition could be a "positive step in principle," but he stopped short of saying whether it would persuade the EU to restore aid to the Palestinian Authority.
While Hamad said Hamas would not recognize Israel's right to exist, the joint government is to be based on a platform many believe implies recognition of the Jewish state.
"We have nothing against negotiations, we have nothing against a diplomatic process, but we have rights," Hamad said.
Israel, the U.S. and European Union have said Hamas must renounce violence, recognize Israel's right to exist and accept past peace agreements.
With negotiations over the government guidelines continuing, no date was set for it to take office.
Copyright 2018 The Associated Press. All rights reserved. This material may not be published, broadcast, rewritten or redistributed. We strive to uphold our values for every story published.