Seattle — There is no escaping the skinny jean. Not anymore. You may have looked the other way when the trend began to sprout like flowers in springtime, or dismissed those pictures of Sienna Miller and Nicole Richie in US Weekly over the summer.
But it's almost fall now, and on your television is a commercial touting a diuretic that will help you fit into your skinny jeans. Seriously. Look at the girl standing to your right. She's wearing them.
"I think the skinny jean is here for quite a run," said Sally Singer, fashion news director for Vogue. "I don't think it's a one-season trend."
In other words: Resistance is futile. It wasn't enough, apparently, to have survived tapered jeans with ankle zippers in the '80s. Thank the fashion gods for small favors - stonewashed denim is out. But skinny jeans are in. And yes, you can wear them.
"I think a lot of people are afraid of them, but if you do it right, anyone can wear them," said Rachelle Richardson, owner of Manhattan boutique in Kirkland, Wash. "We sell them to 18-year-olds and women in their 50s. ... My mom has a pair."
Skinny jeans are simply jeans with straight legs. The ankles are skinny to varying degrees; Kate Moss-types can rock the peg-leg at 10 inches around, but a more straight-leg 14- to 16-inch perimeter achieves the look just as well.
"You can put your boots on over the skinny jeans, or you can do really cute flats with them or a really high heel," says Julie Merriman, owner of Olivine in Ballard, Wash. "Probably the hottest look to have with the skinny jean is to have it scrunching down around the ankle."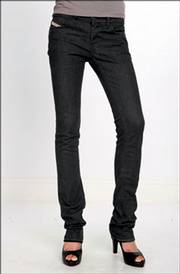 The scrunched skinny jean is very Hollywood - hello, Lindsay Lohan - but not everyone can pull it off.
"It looks cool on a young person ... you just have to be that girl," said Singer, the Vogue editor. "Either you are that, or you're not."
Christy Jackson of Seattle wears her Habitual skinny jeans rolled up with a wedge heel in the summer and tucked into riding boots in the winter.
"I don't have long, stick-skinny legs, so I had to be kind of creative with how I wore them," said Jackson, 28. "It's not going to be flattering on every single person to wear them the exact same way."
However you wear them, the key to achieving the overall look is proportion. If the jeans are skinny, wear something big on top, like a blousy tunic, an oversize cashmere sweater, a blazer or even a little dress. Boots - wedge boots, flat boots, stiletto boots - are on trend and also help balance the skinniness on the bottom.
Kinder cut
If you're new to skinny jeans and feeling cautious, go for more forgiving straight-leg styles by Paige, Habitual or J Brand.
"Thorn makes a good first skinny jean because they're made for a woman's body," says Janelle Bakke, owner of the Italian-inspired illi boutique in Seattle. "They're Italian denim, so they have great stretch. They hug, but they don't suck the life out of you."
Dana Duke bought her first pair of skinny jeans by True Religion after a shop owner convinced her to try them.
"She just badgered me until I tried a pair and then I was like, 'Oh, these aren't so bad,"' said Duke, 36. "Luckily, that day I was wearing heels and they looked phenomenal. ... You just have to try them on, I guess, is the moral of the story."
Copyright 2018 The Lawrence Journal-World. All rights reserved. This material may not be published, broadcast, rewritten or redistributed. We strive to uphold our values for every story published.