Baldwin — The Baker University football team put together its most impressive drive of the night against Graceland College, highlighted by Micah Mason's two-yard touchdown run, with less than five minutes remaining in the contest.
The problem was, the Wildcats left too much time on the clock.
Graceland needed just two plays on the following possession to get inside Baker's five-yard line, thanks to a 59-yard pass from quarterback Clayton Braddock to wide receiver Donva Louder down the right side.
"Two more 10ths of a second and I would have been nailed," Braddock said. "It wasn't that pretty of a pass, but Donva made a really good play in just enough time."
The completion set up running back Julius Strong's three-yard touchdown run that gave Graceland a 21-17 victory at Liston Stadium and improved its record to 2-0.
Baker fell to 1-1 with the hard-luck loss.
"We fought real hard and took their best punches and then put together a nice drive to punch it in to take the lead with momentum on our side," Baker coach Mike Grossner said. "Three plays later, they are on our two-yard line. You can't do that against good football teams."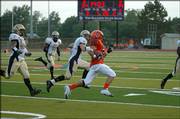 Baker had one more chance with the football to regain the lead, but quarterback Mack Brown threw the game-sealing interception.
"I thought that I would be able to stick it in there, but I underthrew him," Brown said. "It was a bad throw."
Graceland picked up one more first down and ran out the clock.
Brown finished 18-of-36 for 203 yards with a touchdown and two interceptions.
The Yellow Jackets led for the first 55 minutes thanks to touchdowns by wide receiver Geary Davenport in the first quarter and a two-yard touchdown run by Braddock with seconds remaining in the opening frame.
The Wildcats cut the score to 14-10 at halftime when Brown hit James Hensley on a play-action pass for a 45-yard touchdown.
After the first quarter, the defense held its own other than the game-winning drive, holding Graceland to 343 yards of total offense.
"They made one more play than we did," Grossner said. "I was so proud of our defense and how they played all night in keeping them out of the end zone."
Baker will play Saturday at William Jewell.
Copyright 2018 The Lawrence Journal-World. All rights reserved. This material may not be published, broadcast, rewritten or redistributed. We strive to uphold our values for every story published.