Ken Bower is famous, but chances are you don't know who he is.
After all, there's not exactly top-40 radio that plays square dance songs.
So unless you happen to be a square dancer, you've probably never heard of Bower, one of the best-known square dance callers in the country.
"I do make square dance records and recordings, and that helps as much as anything," Bower says, explaining his fame. "I've done 60 square dance records and albums over the years. Other than that, it's mainly through the word-of-mouth of square dancing. You travel and meet somebody there who's new, and they have a club down the road and they want you to call."
Lawrence isn't a new place for Bower - he's called here before - but the 68-year-old will be doling out directions tonight to an estimated 300 to 400 dancers at the Douglas County Fairgrounds.
The occasion is the one-year anniversary of the founding of the Happy Time Squares, a local square dance club. The dancing starts at 7:30 p.m.
"He's a person who has been calling square dances for a long time," says Lloyd Northrop, president of the club. "He's called in every state in the United States, along with many locations overseas. He became very well-known nationally. He has wonderful abilities."
Bower, who has been calling square dances professionally since 1965, now lives in California, but he grew up in Iowa. And he considers Kansas City his home base - he keeps his car there and often flies in to Kansas City International and drives throughout the Midwest for dances.
Photo Gallery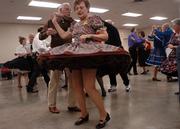 Happy Time Squares Dance Club
He tours most of the spring through fall and calls over the winter to "snowbirds" who drive their RVs to the Golden Palms Travel Trailer Park in Hemet, Calif.
Bower has called square dances to the tunes of Madonna, Elvis, Tom Jones, Barry Manilow and Engelbert Humperdinck, among many, many others. And he does plenty of country, though he doesn't particularly like country music.
"My type of calling is done mostly through singing," Bower says. "I took voice lessons as a kid, so 60 to 70 percent is done with singing. Any song you hear on the radio today can be turned into a square dance."
Northrop, who has danced to Bower's calling before at national conventions, says there are good callers and bad callers, and Bower is among the best.
"It's their ability to read the group and call to what they're able to dance to," Northrop explains. "They need a good voice, good rhythm and a good choice of music. And he's got a good sense of humor."
The Happy Time Squares started off with 16 members, which has grown to 126 in one year's time. Tonight's dance also will include many dancers from area towns.
Bower says he's not surprised the local group has been popular. He's seen similar stories throughout the country and around the world.
He says the thing that united square dance clubs throughout the world, no matter where they are, is the quality of people involved in them.
"I take a personal check every night from those little clubs," he says, "and never have I got a bad check in more than 40 years."
Copyright 2018 The Lawrence Journal-World. All rights reserved. This material may not be published, broadcast, rewritten or redistributed. We strive to uphold our values for every story published.