A motorcycle wreck last week on a curving stretch of road in far west Lawrence has revived concerns about the road's safety.
The 40 mph zone is at the end of Bob Billings Parkway near schools and a church. But Lawrence attorney Tim Riling, who lives nearby, said the street is a prime attraction for irresponsible drivers.
"It's like a racetrack," he said.
Twice in two years - in 2001 and 2002 - young people died while speeding in nearly the exact same spot on that stretch of road. Both lost control and crashed on the south side of the road near Bobwhite Drive.
Alcohol was listed as a factor in one of those wrecks.
On Friday night, a 22-year-old Kansas University student from Topeka, Anthony Giordono, was flown by air ambulance to University of Kansas Hospital in Kansas City, Kan., after losing control and crashing into an embankment in roughly the same area, near Corpus Christi Catholic Church, 6001 Bob Billings Pkwy.
A detailed report on that wreck was not available Wednesday, but at the time police said they were investigating alcohol as a possible contributing factor.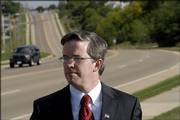 Also, in October 2004, teenagers were injured in a drag-racing accident in the 6000 block of Bob Billings Parkway.
Riling said he believes the city should consider lowering the speed limit or installing some kind of traffic-calming devices.
"I think we have to do something about it; otherwise it's just going to continue to occur," he said.
A similar discussion happened after the 2001 and 2002 crashes. City traffic engineer David Woosley said at the time he didn't think a traffic-calming device was a good idea for a busy arterial road.
Also, Woosley said Wednesday that a change in the speed limit could only do so much.
Corpus Christi Catholic Church
"If somebody is driving drunk and over the speed limit, a sign up there isn't going to change that," he said.
But he said he would study the issue, if he's asked to do it.
Riling isn't the only person with concerns. The Rev. Mick Mulvany, of Corpus Christi Catholic Church, said that in a meeting at the beginning of the school year, several parents expressed concern about the amount of traffic on Bob Billings Parkway.
Officials at Langston Hughes, which is nearby on George Williams Way, couldn't be reached for comment Wednesday.
Copyright 2018 The Lawrence Journal-World. All rights reserved. This material may not be published, broadcast, rewritten or redistributed. We strive to uphold our values for every story published.