New York — Andy Roddick whipped a winner on the run past Lleyton Hewitt, raised his arms and yelled to celebrate, then basked in the standing ovation.
Exactly the sort of stuff Jimmy Connors used to do to fire up U.S. Open crowds, right? Roddick, now coached by Connors, capped a busy day at Flushing Meadows by beating fellow former champion Hewitt, 6-3, 7-5, 6-4, Wednesday night to reach the semifinals for the first time since he won the tournament in 2003.
"Well, I guess I can play tennis a little bit again," Roddick said. "I'm in a little bit of shock. It's been a rough six months for me. I haven't played too well."
And there was more good news for Roddick: He won't have to play Rafael Nadal next. The second-seeded Spaniard was eliminated by 54th-ranked Mikhail Youzhny of Russia, 6-3, 5-7, 7-6 (5), 6-1, meaning Nadal and No. 1 Roger Federer will not become the first pair of men to meet in three consecutive Grand Slam finals during a season.
"Unbelievable," Youzhny said. "I cannot believe I beat Rafa in four sets."
He wasn't alone. After all, Youzhny never before had been beyond the fourth round of a major tournament, and he acknowledged he didn't really expect to do it here. What was most remarkable was the way Nadal, the two-time French Open champion and this year's Wimbledon runner-up, succumbed at the end, hanging his head at changeovers in the fourth set after wasting a 5-4 lead in the tiebreaker.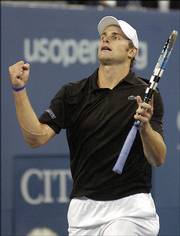 "I am trying to fight, but I wasn't," Nadal said. "I was not my best in the fourth, no? I know I lost a big opportunity. And after that, Mikhail is playing unbelievable ... all winners."
A day after rain allowed only one match to finish, there was plenty of action. Federer and No. 5 James Blake set up a quarterfinal showdown with straight-set wins, and that half's other quarterfinal will be No. 7 Nikolay Davydenko against No. 14 Tommy Haas.
While Federer-Nadal III is no longer possible, there still could be a No. 1-vs.-No. 2 final for the women, because top-seeded Amelie Mauresmo and Justine Henin-Hardenne advanced with relative ease.
Henin-Hardenne's 6-4, 6-4 victory over Lindsay Davenport means this is the first year in the Open era - which began in 1968 - that no American woman reached any Grand Slam semifinal. Mauresmo beat No. 12 Dinara Safina, 6-2, 6-3, to move a step closer to her third Grand Slam title of 2006. Her next opponent is No. 3 Maria Sharapova, whose shrieking during her 7-6 (4), 7-6 (0) quarterfinal victory got to No. 27 Tatiana Golovin.
Copyright 2017 The Associated Press. All rights reserved. This material may not be published, broadcast, rewritten or redistributed. We strive to uphold our values for every story published.