Haricot verts, the food, is a type of French string bean.
"Haricot Verts," the snare drum duet, is a four-minute wall of solid sound. And if you throw in that it's part drum duet and part juggling act, you have yourself some entertainment.
"You want it to be fun to watch, so it appeals to the average Joe," says Josh Frans, a Kansas University junior who co-wrote the work. "You want them to say, 'Wow, that's pretty neat.'"
Frans and co-composer Shane Nickels are hoping to get plenty of that response Friday night as they play their piece in front of their largest audience yet: the Collage Concert, the School of Fine Arts' annual showcase of all student work that goes on at the school.
The concert is at 7:30 p.m. at the Lied Center.
"It's pretty exciting," Nickels says.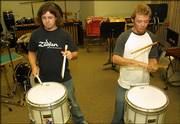 The two, both juniors and percussion performance majors, wrote the piece late last year and early this year. They admit the snare drum isn't typically seen as a solo instrument.
"This is easier for me, honestly," says Nickels, who is from Hutchinson. "I don't think as much as when I'm playing a marimba solo. It's definitely a lot more fun doing a snare duet than playing snare in the wind ensemble."
"It's a little more aggressive," adds Frans, who is from McPherson.
The piece has three sections, each with difficult stick combinations and syncopated rhythms that bounce between the two drums. The first movement also includes cowbell parts; the third movement involves the most stick-twirls and tosses.
Kevin Bobo, assistant professor of percussion at KU, describes "Haricot Verts" as a "rudimental" snare drum work, meaning they're based on basic sticking patterns.
"They made an effort to come up with bizarre stick combinations," Bobo says. "It doesn't turn into a snare drum solo that two people are playing. It's a duet in the way they orchestrated it. It's pretty cool."
Bobo says some students just have a knack composing for drums such as snares.
"Some people can write brilliant works for the pitched percussion instruments and can't write for non-pitched instruments, and some are the exact opposite," he says. "I think a lot depends on the kind of music they listen to."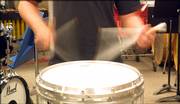 Nickels says a lot of the rhythms he includes in his works are based on things he's heard before.
"For me, it's just a lot of influence from the things I've done before, like the drum lines I've been in," he says. "I might take it and do it in a different way, so it's more of a compilation of the lines I've learned."
And that, Frans says, is what he hopes the audience gets out of the piece on Friday: a lot of different rhythms that keeps them on their toes.
"We change things pretty quickly," he says. "We never get too monotonous - it never gets into a groove."
Collage concert
When: 7:30 p.m. Friday Where: Lied Center Tickets: $15 for adults and $10 for students and seniors.
Fourteen performances at Kansas University's Fine Arts Collage Concert will include the Wind Ensemble, Men's Glee Club, Jazz Combo I, a multimedia performance from the department of art, Trumpet Ensemble, dance student Meggi Sweeney, flute soloist Laura Marsh, Chamber Choir, department of design, Saxophone Quartet I, percussionists Shane Nickels and Josh Frans, piano student Nicholas Susi, dance professor Patrick Suzeau and the Marching Jayhawks.
Copyright 2017 The Lawrence Journal-World. All rights reserved. This material may not be published, broadcast, rewritten or redistributed. We strive to uphold our values for every story published.