Not only was youth served in Haskell Indian Nations University's volleyball loss to College of the Ozarks, but it was also killed.
The Fighting Indians - who field only one upperclassman, junior Christy Renwick - couldn't do much to fend of the Bobcats' 39 kills in a 30-16, 30-11, 30-14 setback Wednesday at HINU.
"They're a much bigger team then we are, for one," HINU coach Judith Gipp said. "And the other part of it is they just have impeccable control and focus on their side to where they read a lot better than what we're reading right now. So they're able to make those adjustments and get to the net a lot quicker then we are."
But there were six instances where College of the Ozarks couldn't even get a chance for the kill as Haskell (0-5) had six service errors.
"It seems like we were all tired on the court, and we really need to work on conditioning, but for the most part I think we just need to concentrate on our serving," said DeAnnethea Begay, who accounted for half of Haskell's service errors. "We also need to look at how our opponents are standing - to see if they're off on their serve, see if their footing is off. No one's looking at that, and it seems like we're just moving slow."
Begay was able to aid as much as she could at the net, finishing with six kills - second on the team to Kayla Clark's eight.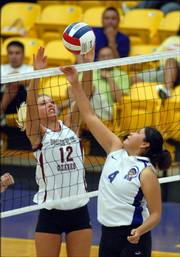 However, the Bobcats matched the Indians' 23 kills with 23 blocks - eight of them from junior Laura Stepp, who also had six kills.
"Part of what Ozarks brings to the table is just really a penetrating wall no matter what rotation they're in," Gipp said. "They seem to be able to be very efficient in their blocks."
The Bobcats also were strong from the service line. They came up with 13 aces and twice were able to serve up 10 consecutive points.
With only two members - Begay and Keva Mendoza - who played together a year ago, Haskell's lack of a solid team chemistry aided College of the Ozarks. The HINU team only worked together on the court seven or eight days before heading to North Dakota to start its season.
"We're still trying to increase our communication ability," Gipp said. "By the same token, though, we don't want to run a lot of audible situations : and try to push our outsides too far out so that we can tool the blocks with basically having to say it."
Copyright 2018 The Lawrence Journal-World. All rights reserved. This material may not be published, broadcast, rewritten or redistributed. We strive to uphold our values for every story published.