The last one standing could miss the Chase.
Twenty-five races have narrowed the field of drivers eligible to compete in the Chase for the Nextel Cup down to 11 with only Saturday night's Chevy Rock & Roll 400 at Richmond (Va.) International Raceway remaining.
So what's the problem?
It's most likely only 10 can make the cut, leaving one driver with nothing more than the hope of claiming the honorable mention-like appearance at the awards banquet in New York City for an 11th-place finish.
On the surface, it appears Kasey Kahne - who leads the Cup series with five victories this season - could be on the outside looking in, which would really make NASCAR's insistence the Chase put more emphasis on winning races look silly.
Kahne trails 10th-place Jeff Burton by 30 points, but cut 60 points off a then-90-point deficit with a victory last weekend at California Speedway.
Kahne has been hot of late - his Evernham Motorsports No. 9 Dodge team has run well the last month - even if all his finishes don't reflect the performance.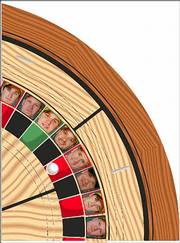 "I'd say a fourth at Michigan and a 12th at Bristol and now winning (at California) is a sign of good things," Kahne said. "We were running well the week before (at Watkins Glen). I was ninth and got off course and finished 22nd.
"The week before that I went from 22nd to seventh, eighth or ninth (at Indianapolis). I was racing with Tony (Stewart) and Carl (Edwards) and got in the wall on the last corner.
"For about five weeks straight we've been running in the top 10 or just on the edge of that."
While Kahne - who also won the Busch Series race at California - has momentum in his favor, the two drivers ranked in the top 10 without a victory this season - Mark Martin and Jeff Burton - appear the most vulnerable to being left out of the championship race.
Burton was ranked third in points as recently as five races ago following his 15th place finish at Indianapolis, but had never been able to open up serious breathing room from the rest of the field.
He was 11th at Watkins Glen, but a blown engine at Michigan left him a 42nd-place finish and the points free-fall started. He dropped to ninth, recovered to seventh after Bristol, and fell to 10th after California.
Burton's team has been qualifying well all season - typically not his strength - but his Richard Childress Racing team has been unable to capitalize and translate those starts into top fives or a win.
"When we go to Richmond, it'll be a dogfight for sure, but we'll go there and give it all we got and that's all we can do," Burton said. "I look forward to it. I'm excited about it. I feel like I'm going there with a good team and good race cars."
Burton disputes any notion he or his team is under undue pressure entering the final race to make the Chase.
"Pressure is when you don't have a chance to do anything. This isn't pressure. This feels good. We have a chance to have something good happen. It's still ours to win or lose."
Martin has been ranked in the top 10 in points all season, except the first week, when he was 11th leaving Daytona. But he has yet to earn a victory, coming closest at Atlanta in March when he was second.
"At Richmond, even if we don't make the Chase, I'm going to go down swinging all the way to the end," Martin said.
Copyright 2017 The Lawrence Journal-World. All rights reserved. This material may not be published, broadcast, rewritten or redistributed. We strive to uphold our values for every story published.