Kansas City, Mo. — For one day at least, nobody was laughing at Kansas City's bullpen.
Starter Jorge De La Rosa shut out the New York Yankees for 5 2â3 innings Tuesday night, and then Todd Wellemeyer finished up for a 5-0 victory, the Royals' first blanking of the AL East leaders in more than three years.
Just 24 hours earlier, a bullpen collapse had led to a 10-run Yankees' eighth in a 12-5 Kansas City loss.
"Nobody will say a word about it now," said Wellemeyer, who struck out Derek Jeter with the bases loaded to end the game.
Yes, he was thinking of the night before.
"They're the best lineup in baseball," Wellemeyer said. "You've got to stay ahead of them. When you get behind them it's almost like - it's the last thing you want to do."
Mike Mussina was hit hard in his return from a strained right groin and took his second loss in 10 career decisions in Kansas City.
"I threw, and I didn't get hurt again, so that's at least positive," said Mussina (13-6), pitching for the first time since Aug. 20.
He went five innings and gave up four runs on eight hits, with four strikeouts and a walk. Mussina, 0-3 in five starts since July 30, left after Brown's leadoff homer in the sixth put the Royals ahead 4-0.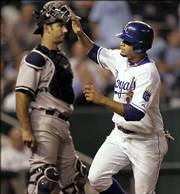 "My location wasn't great, but I haven't cranked it up to full speed in two weeks," he said.
Emil Brown homered for the Royals.
Jeter was 1-for-5 with three strikeouts as the designated hitter, extending his hitting streak to 16 games and leaving his average at .343, two points behind Minnesota's Joe Mauer, who leads the American League.
New York was 1-for-12 with runners in scoring position. The Yankees, who lead the major leagues in scoring, were blanked for just the third time this season and their AL East lead was cut to eight games over second-place Boston.
"It's not a big deal, but we definitely don't want to keep losing ground," Johnny Damon said. "Eight games is a lot of games, but a lot can happen in baseball."
De La Rosa (2-2) got his second victory in 15 major-league starts, leaving after 52â3 innings with a blister on the middle finger of his left hand.
He gave up six hits, struck out four and walked two.
Wellemeyer relieved with two on and two outs in the sixth.
The runners advanced on a wild pitch - Alex Rodriguez appeared to be thrown out at third by catcher John Buck but replays showed umpire Greg Gibson appeared to blow a call for the second straight night.
Pinch-hitter Jason Giambi hit a pair of long foul balls, then struck out, extending his hitless streak to 19 at-bats.
Wellemeyer struck out five and gave up three hits, getting his third career save, his first this year.
Royals pitchers have fanned 21 in the first two games of the series.
Kansas City had not shut out the Yankees since an 11-0 victory at Kansas City on Aug. 13, 2003.
Mike Sweeney's RBI double gave the Royals a run in the first, and Buck hit into a run-scoring, double-play grounder in the fourth after Mussina allowed Shane Costa's bunt to get by him on the third-base side, loading the bases with no outs. Andres Blanco followed with an RBI single.
Blanco doubled in the seventh off Sean Henn and scored on Mark Grudzielanek's sacrifice fly.
Copyright 2018 The Associated Press. All rights reserved. This material may not be published, broadcast, rewritten or redistributed. We strive to uphold our values for every story published.