A traditionally balanced offense strayed slightly on Saturday, but that doesn't mean Mark Mangino's mind-set has changed.
Kansas University's football coach still feels that the way toward a powerful offense is to mix it up as much as possible - in a perfect world, 50 percent run and 50 percent pass.
The Jayhawks attempted just 20 passes against Northwestern State on Saturday and ran the ball 31 times.
Expect that teeter-totter to balance out before long.
"If you've got the run game going and you can move the ball, you run," Mangino said. "Ideally, I'd like to have balance, pure balance. But we'll go with what's going well."
Part of the reason there were more carries Saturday was the first drive, when Kansas heavily relied on running back Jon Cornish while Kerry Meier, KU's freshman quarterback, got comfortable. Eventually, Meier lost the nerves and was 8-of-18 passing for 110 yards and two touchdowns.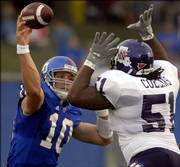 "We're not going to run a vanilla offense just because of Kerry," Mangino said. "Everything we have in our offensive package has been executed at one time or another on the practice field."
KU had 425 rushing attempts and 396 passing attempts last year. It's possible the two numbers will stay close together this year, as well - especially if Meier continues to show signs of being capable of taking on an increased role.
"We will not be conservative with him, I can assure you that," Mangino said. "We don't need to be. He can make plays, so we'll let him fly."
¢ ULM differences?: Louisiana-Monroe is a NCAA Division I-A team in the Sun Belt Conference, but its clashes with Northwestern State, KU's opponent last week, haven't gone so well.
In fact, Division I-AA Northwestern State has won the last two meetings against Monroe, including a 27-23 victory last year.
"Northwestern State had some good kids, there's no question," Mangino said, "but I think Monroe probably has a little more skilled kids available, probably a little bit more physical on the line of scrimmage and probably run a little bit better on offense."
¢ Paying off: KU cornerback Blake Bueltel earned a starting job at cornerback last week, a big step considering he arrived in Lawrence at around 160 pounds.
Bueltel, a Topeka native, transferred from Butler County Community College and put on 15 pounds of weight before last week's game, thanks in part to strength coach Chris Dawson's summer program.
"It was a concern," assistant Earnest Collins said of Bueltel's weight, "but he has quick feet. He's got good quickness and that was what I looked at more so. When he came in, I knew Dawson would get him where he needs to be. Chris Dawson does a great job with those kids."
¢ Players of the game: The KU coaching staff named linebacker Eric Washington the defensive player of the game for the season opener.
Kerry Meier and Jon Cornish split the honor for offense, while Marcus Herford was cited for special teams.
¢ More optimistic: News of Mangino getting a new contract made its way down to his players, and at least one - freshman running back Jake Sharp - was glad to see the commitment made.
"It makes you feel good. Nobody wants the head coach that recruited you to leave halfway through your time at the school," Sharp said. "I think it means a lot more from the whole university itself and how they really want to push the football program now and keep it going."
¢ Heroes night: Saturday's game has been designated "Heroes Night" at Memorial Stadium. Members of the nation's armed services, veterans, firefighters, EMS personnel, law enforcement and teachers can purchase tickets for $5.
Saturday is also Band Day at Memorial Stadium.
Copyright 2018 The Lawrence Journal-World. All rights reserved. This material may not be published, broadcast, rewritten or redistributed. We strive to uphold our values for every story published.