New York — Jelena Jankovic lost so many matches in a row this year, she lost count. But she'd taken enough stats classes in college to figure this: It was probably time to quit tennis and go back to school in Belgrade.
Tuesday, Jankovic graduated - to her first Grand Slam semifinal, that is - by taking away No. 4 Elena Dementieva's serve and coasting, 6-2, 6-1, at the U.S. Open.
"I cannot believe that I won in two sets," Jankovic said. "What was the score? I don't even know the total score."
Shortly after she finished, rain began and play was called for the day. At that point, seventh-seeded Nikolay Davydenko led No. 17 Andy Murray, 6-1, 5-7, 6-3, and 2000 U.S. Open champion Marat Safin led Tommy Haas, 2-1.
Steady drizzle did not dampen Jankovic's day.
The 19th-seeded Serbian became the first player to reach this year's semifinals at Flushing Meadows and will face the winner of the match between Lindsay Davenport and Justine Henin-Hardenne.
The 21-year-old Jankovic posted the biggest victory of her career, winning every game when Dementieva served.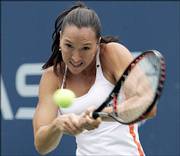 Earlier this year, Jankovic wasn't winning anything. She lost in the second round of the Australian Open, then dropped her opening match at the next nine events - 10 consecutive defeats in all.
"Ten losses in a row, nine losses - how many, I don't know," she said. "It was terrible. I don't know what was wrong with me. I didn't have the will to practice, didn't want to play.
"It was something that I never felt before, and I almost quit playing tennis," Jankovic said. "I just wanted to go and study."
Then she got a visit from her mom at a tournament in Rome. Immediately, Jankovic began to play better.
"She would always give me support and tell me I can do it, I have the potential," she said.
"Since then, I won like 30-something matches out of 40. It's been amazing."
Now, those courses in statistics, economics and politics can wait.
"My ambition is to finish university," she said.
At 24, Dementieva was mulling her future, too.
"It is disappointing. I'm getting older, and I haven't won a Grand Slam, so that's really what I'm thinking about all the time," the 2004 Open runner-up said. "I feel like I was in good shape here. That's why it's sad. She didn't give me any chances. She was better."
Copyright 2018 The Associated Press. All rights reserved. This material may not be published, broadcast, rewritten or redistributed. We strive to uphold our values for every story published.