Aug. 23 began as another normal practice for ninth-grader Randy Smith at South Junior High.
As it turned out, it was not a normal day at all.
The practice would end with Smith on his way to the hospital with a broken ankle.
"I went for a high tackle and landed on it wrong," Smith said.
Smith knew immediately the injury was severe.
"I was on the ground screaming and yelling," Smith said.
Although the injury occurred early in practice, Smith waited until after practice to go to the doctor.
And the doctor did not bring good news.
Smith will be on crutches for a while and likely will be out for the Cougars' entire season.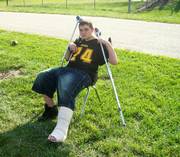 Smith, who played guard and defensive tackle for the Cougars, watched his team's season opener against the Blue Valley Tigers from a chair on the sideline.
He did not lay his crutches on the ground next to him. Instead he held a crutch under each arm and was surrounded by his teammates throughout the game. Smith's seat was very close to the action on the field. It is a place where he desperately wants to be again.
Smith played youth football in previous years but did not play last season, which makes the timing of his injury more difficult to deal with.
"I'm really disappointed," Smith said. "I wanted to help the team win every game and get some hard hits."
For now Smith won't be getting any hard hits unless, of course, it comes via his crutches.
He must watch from the sidelines while his friends and teammates practice and play. Smith said his injury has caused him to change.
"I just want to help encourage the team any way I can," Smith said.
During the game Smith cheered and yelled with the rest of the Cougars team as they took an early lead. But Smith could do nothing more as he watched the Cougars' lead evaporate and the Tigers take the lead.
But as the Cougars began their comeback, the chant of "Finish! Finish!" came from the sideline.
Smith was cheering as loudly as anyone in a Cougar uniform.
Though he watched the Tigers celebrate a 30-22 win on the Cougars home field, Smith was determined to make a speedy recovery so he could play football this season.
"I'm supposed to be out for the year. But I'm going to try to come back," Smith said.
While Smith's return to the gridiron is at least a few weeks away, South supporters can expect to see him on the Cougar sidelines, cheering for his team at all the practices and games.
"I can't really help right now," Smith said. "But when it heals a little bit better I can."
Copyright 2018 The Lawrence Journal-World. All rights reserved. This material may not be published, broadcast, rewritten or redistributed. We strive to uphold our values for every story published.