Indianapolis — Peyton Manning hoped one training camp interview session would end the questions about Sunday's Brothers Bowl.
As his New York brother might say: Forget about it.
With Gotham's most hyped brotherly battle since perhaps the DiMaggios, the Manning vs. Manning affair has become the opening weekend's marquis matchup - much to the family's chagrin.
"They've both said it's a game between two teams, and it is," father Archie Manning said during Peyton's recent bowling tournament in Indianapolis. "The media is trying to make it out to be Tiger vs. Phil or something, but it's not like that."
Certainly the Manning clan would prefer to downplay the first-ever football meeting between Eli and Peyton, Archie's sons who were both taken No. 1 overall in their respective draft classes.
Peyton, the two-time MVP, tried to diffuse the situation the first week of training camp when he answered the questions he expected from the moment schedule-makers put the Giants-Colts game in prime time on Week 1. Afterward, Peyton said he wouldn't talk about it again.
Good luck. The blackout will undoubtedly end when Peyton holds his usual news conferences today.
While Peyton and Eli have attempted to focus on the bigger picture - such as the importance an opening day win might have on their teams' playoff hopes - others, including the league itself, have used the obvious storyline to their marketing advantage.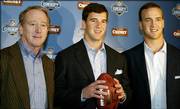 In the NFL's Kickoff Weekend packet, page 55 is headlined "Manning vs. Manning an NFL QB First."
So much for the Giants and Colts.
"Well, that's the era we live in," Archie said. "There will be a lot of hype, and I'm proud of the way the boys are handling it."
Relying on 14 years of NFL experience and nine more as an NFL father, Archie Manning has tried to keep things in perspective as the sibling rivalry looms. He's not saying whether the family has scheduled a sewing project to create those trendy half-Giants, half-Colts shirts, and, like his boys, insists Sunday night's matchup really is more than a family affair.
The duel has created some intriguing family planning, though.
Last month, Peyton said he'd already taken care of most ticket requests because Giants players had a limited supply.
Archie also wouldn't say whether similar comments coming from his sons in New York and Indianapolis were choreographed. Peyton and Eli both said during the preseason they were more concerned with the opposing defensive ends than their own slugfest.
And Peyton said his father merely wanted a high-scoring game rather than picking one son to win and the other to lose.
"I think my mom will pull for both of us to stay healthy and my dad will pull for a lot of offense," Peyton said.
The game itself has a little something for everyone, even those with a different surname.
Colts coach Tony Dungy points to the three Pro Bowl defensive ends, the potent offenses and the playoff-type atmosphere he expects Sunday night.
Peyton's teammates have another take. They aren't planning to give their quarterback's younger brother the kid-glove treatment.
"We can't hit ours, so we've got to hit one of them," Colts defensive end Robert Mathis said as the talk began in earnest Monday.
It may not be the genteel stuff Archie and Olivia Manning hoped for. Then again, Archie, understands; this is football and quarterbacks have to take their licks - even his sons.
For the record, Peyton said he hadn't lost to Eli in a sporting event since a pickup basketball game when he was playing at Tennessee and Eli was still living at home.
Copyright 2018 The Associated Press. All rights reserved. This material may not be published, broadcast, rewritten or redistributed. We strive to uphold our values for every story published.